06 Aug

You are accepted (or, I'm married to a caveman)

The ceiling fan did not make a dent in the heat. It whirred enough to fill in the occasional conversational pause, but not much more. The backs of my thighs were glued to the wooden bench. When I adjusted my position, the sticky finish peeled off onto my skin with a ripping noise and left brown stain on my legs.

We sat zombie-like around the small living room of a modest cottage that stood in contrast behind a Sandals hotel. I bet the resort guests were not in want of the

air-conditioning

we craved. When I looked around the circle of

undead

faces, I saw nine high school students, two college students, six adults, and my three kids.

For four hours we stayed. For four hours, we renamed our group members.

We had all been transformed during a week of living and serving together. Our assignments included playing with, feeding, and diapering

orphans

; painting walls;

repairing roads

; constructing a building; washing dishes and windows and vehicles; and so much more that seems implausible now that I'm looking back. Where did we get all the hours and

energy

?

This youth group with the current leadership has been together for a while now so we weren't strangers when we set off on our

grand Jamaican adventure

. And most of our families are intertwined as Mennonites tend to be. So, our new names were

birthed

from qualities and actions witnessed during our seven nights in Montego Bay, Jamaica, but also from what we knew

before we even left the runway

in Philadelphia.

Our new names were written on small stones for us to keep for always.

Some labels that emerged for different individuals that night: Joy,

Loyal,

Abe Lincoln, Humbly Determined, Timothy,

Hospitable

, Integrity,

Billy Graham

.

My husband Lee was christened Caveman by the boys on our team. Because of his adventurous spirit and his ability to grow facial hair.

My 12-year-old was Brave and

Unique

.

My 10-year-old was Daniel Boone and Explorer.

My 7-year-old was

Precious

and Sensitive

Heart

.

Spot on. All of them!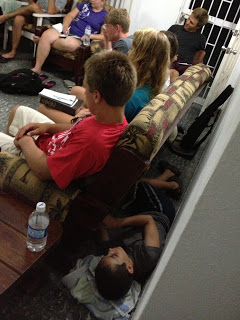 Alex is asleep behind the couch.
When midnight approached, my three kids were long asleep – Es and Em were in their beds; Al was on the floor behind the couch. After every other person in the room had been given a new label, finally it was my turn. (It was either a case of "they saved the best for last" or "I was the last one chosen for the team" – I'm not sure.)
My new name: Accepting.
It is an honor to be thought of as accepting by those kids! If they had called me Loving or Joyful or Adventurous or Fun or Prayerful or Prepared or Compassionate or most anything else, I wouldn't have been as touched. Especially since I'm not loving or joyful or adventurous or fun or much of anything.
But "accepting." I like that.
I felt like
I won an award
when I received my rock with the
scrawled
black letters spelling the word.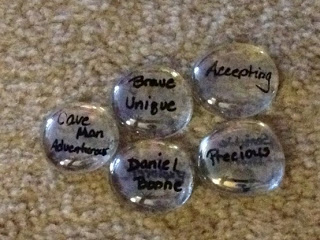 My family.
My husband pointed out the irony of this title for me.
That my past has made me what I am
. A big struggle for me as a kid and teen and young adult (and well
pretty much always
until three or four years ago) was my insecure feelings of being unacceptable. When my mom ended her life, I
swallowed the rejection
from her and let it sour every relationship. My barriers were
impenetrable.
My armor insured there was no way I could or would ever be accepted, at least not for who I really was. I was good at making myself acceptable in others' eyes (party girl, cool kid with the fake ID, headbanger, swooning girlfriend, martial artist, teacher, missionary.) I was a short order cook serving up the person I thought others wanted.
Anything but the real me, because the real me was
wretched
and unlovable.
God sees through all our lies to who we really are. Even if you are a mess, he knows what made you that way and has
grace
by the bucketful to spill over you. He accepts you. He does.
You can't lie to him and once you realize that, you will be
free
.
I love the youth so much for letting me be me and letting me have a front row seat to their displays of integrity, maturity, bravery, compassion. I am a flea compared to the
mighty young men and women
who are emerging from our youth group.