14 Aug

Why my marriage works

Thank you Jill Winslow for the topic suggestion and title: "Why my marriage works."

Jill has known us since year one of our marriage, so her suggestion may have been a joke. Either way, I'm taking it on.

I am going to go ahead and skip all the ho-hum, obvious advice. You know – communicate, put the other's needs ahead of your own, go on dates, divide up the housework, share your deepest thoughts, commit fully to the marriage, don't go to bed angry, don't cheat, don't lie, don't be stupid. All the stuff you probably should have heard by now.

Instead I will share an example. I have never-ending illustrations from our 46 years of marriage (or 16 years, I can't keep track). But for now, one shall suffice.

Stress has been a constant this summer. I bit off more than I can chew – finished writing a book, traveled to a writers' conference, hosted visitors, redecorated bedrooms, took entire family and youth group on a mission trip to another country, welcomed an exchange student into our home, all while keeping my own three kids engaged enough in life that they don't stare at a computer/TV screen all day.

All these activities are valuable; it's just I would have preferred them not to all happen in one month.

At my desk attempting (pretending) to write this morning, I peered out my office window into the backyard. The splintered swingset stood empty. Debris from the trees scattered from the wind. Imagine rusty chains from swings creaking in the breeze while lonely tumbleweeds rolled by. It was kinda like that.

Instead of enjoying the natural world, two kids chattered (fought?) in the kitchen as they played with puffles in Club Penguin (if you don't know what that means, consider yourself lucky). Another child attempted to kill me with chemicals as she applied, removed, applied nail polish (every finger needed a different pattern – oy!).

Despite all these distractions, I tried to focus on writing, but the clock ticked. I knew that in 40, 30, 20, 10 minutes my new high school senior son would come home from soccer practice and all concentration would fly out the window to the deserted swings.

That said, you'll understand the following e-mail I received from the husband reviving me from my nail-polish-induced stupor. He knows I like to post to the blog once a week. And he is aware that my brain is toasted and I am exhausted. He figured this out using his keen intuition and because I keep telling him, "My brain is toast. I am so exhausted."

JJ,

OK…here is how tonight is going to go down.

1)      I will get home at 4:30 pm.

2)      You will walk out the door and go to Starbucks with your laptop as soon as I get home.

3)      At 6:00 pm you will walk across the street and go to either:

a.       Sonic

b.      Tony Wangs

4)      We will meet you there to eat.

5)      When we are finished you will walk across the street to Starbucks and stay there until you have consumed sufficient caffeine to finish your writing obligations.

Would you like to go to Sonic or Tony Wangs?

Lee

No platitudes. No critiques. No advice. Just cold, hard pragmatic action. That pretty much sums up why our marriage works.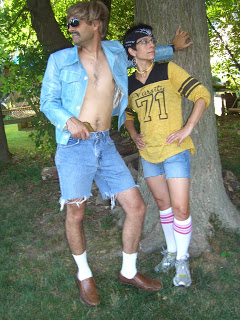 That AND our good looks!