14 Feb

Why I'm okay with not getting flowers on Valentine's Day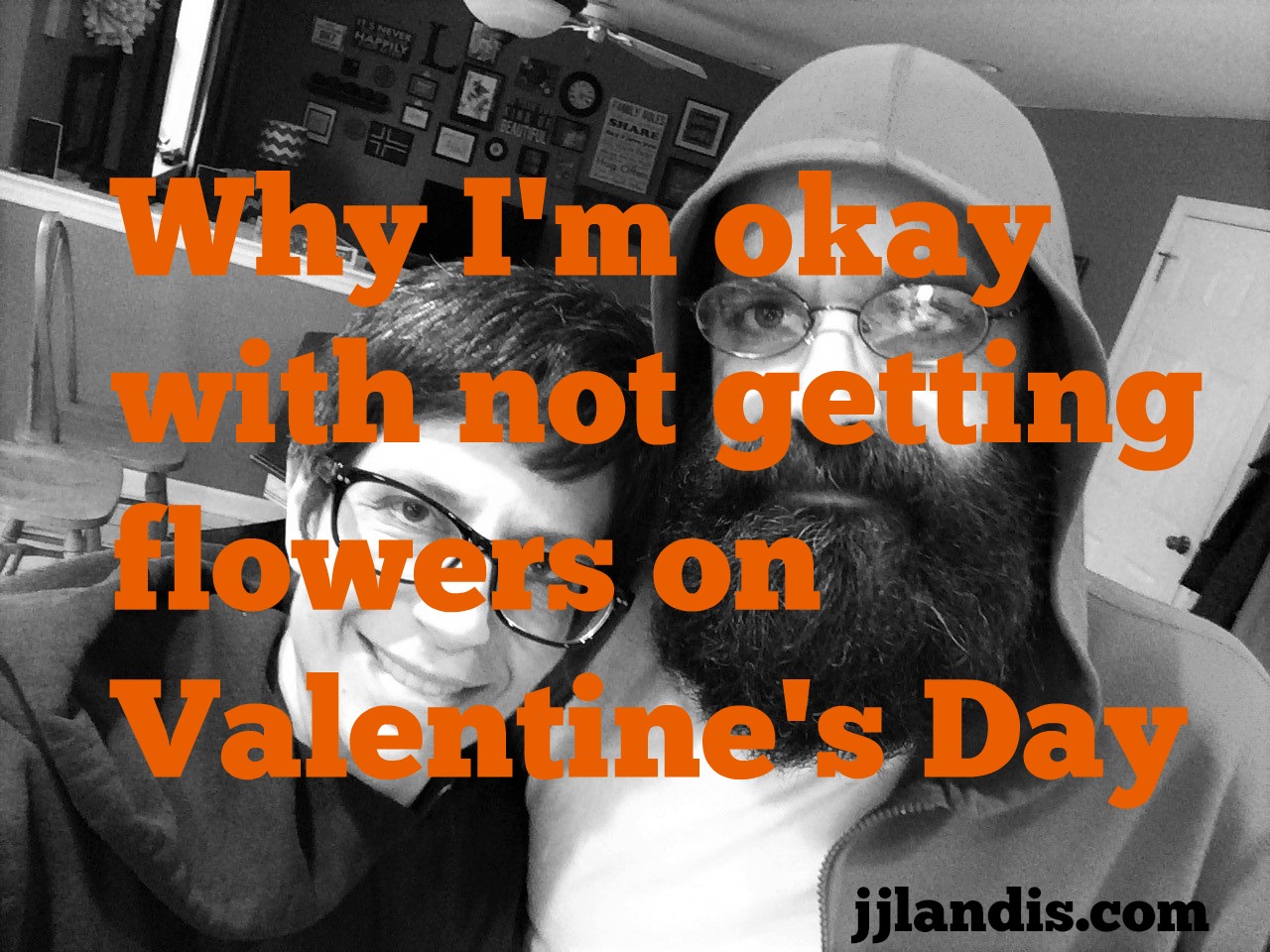 Oh, February 14. You're here again. I didn't get any flowers and I'm glad.
Some things to know about my husband:
His work calendar is not predictable, and that causes us both a lot of angst. No matter how much he knows about the importance of setting boundaries, he is not going to be able to make a solid starting and stopping time when it comes to work. There are no boundaries.
He nobly carries the weight of our family without complaint. He works the way he does for us.
If everything were up to me, our family life would run on the factory default setting and be utterly predictable. And we'd be poor because I'm a part-time public librarian. So, I'm glad it's not all up to me.
Some days he doesn't emerge from his home office. Some days he doesn't arrive home from work until well after dinner.
But there are other days when he takes off to fly a plane for fun or bake 50 shoo-fly pies in our little kitchen. (I don't have enough time here to explain his unusual hobbies.)
He tries to find 10 to 20 minutes every day to play music with the kids. His instrument of choice currently is the banjo. The kids rotate on drums, cello, bass, and violin. It's not like natural talent is overflowing anywhere in this house, but with practice, skills do improve. Time equals love. Someday I hope the children realize this.
He's not much into doing housework or maintenance ("Why bother? Who cares what it looks like?" is his mindset), but he did manage to dig a fish pond and a snake pit (not kidding) for the kids. "What's a snake pit?" you ask. It's an 8- by 8-foot hole to keep found toads and snakes in. (Our neighbors love us.)
He tucks the kids into bed every night. I thought he was doing this as a favor to me on those evenings I was snuggled in deep on the couch, until one night when our daughter was sleeping at a friend's house, he told me he missed saying goodnight to her.
Once a year or so, he teaches the kids about overindulgence and its dangers by letting them eat as many donuts as they wish. They always predict they can eat more than they actually can handle. Without fail, they all end up with a stomachache. What a powerful lesson.
He has no problem being Bad Cop to my Good Cop. When the kids were little, I was Bad Cop, but now I'm too much of a lightweight. "I can't do my chores because I have too much homework," child says to me while texting 16 friends at once and eating Nutella straight from the jar. "Oh, okay Sweet Darling. Nevermind," says weakling me time and time again.
Recently, Lee caused minimal damage to a rented airplane. He could have returned it to the airport and walked away with no one knowing what happened. Instead he documented exactly what he did and offered to pay for repairs or maintenance. His integrity is a lesson to me and our children.
Recently, I caused less-minimal damage to my van by making an embarrassing error in judgment. Lee could have humiliated me when I called to tell him. He could have pointed out my inadequate navigational skills. Instead, he treated me kindly and let me retain my dignity. He also suggested we hide the scratches on the van by keeping it dirty. (I can do that.)
Every time I have a headache, he is willing to drop what he's doing to crack my back and rub my shoulders. I texted one afternoon to warn him I didn't feel well (notifying him I would be grouchy upon arrival at home). Awhile later, he appeared in my office, cracked my back, turned around, and walked out. He's like a superhero that way.
We don't do flowers, chocolate, or jewelry on Valentine's Day. I'm not much for obligatory gifts, and he'd rather not get a gift I'd have to spend more than a dollar on.
I don't want flowers. I want respect, back cracks, a good daddy for my kids, a man with integrity, and someone who makes me laugh. (The beard, banjo playing, and homemade pies are a bonus.)
Tell me about your Valentine's Day. Do you love the flowers and chocolate? Do gifts mean a lot to you, your partner, your children, your friends ? Some people think Valentine's Day is an evil holiday created by the greeting card industry. Perhaps…
---