13 Jan

When forgiveness turns into a ForgiveMess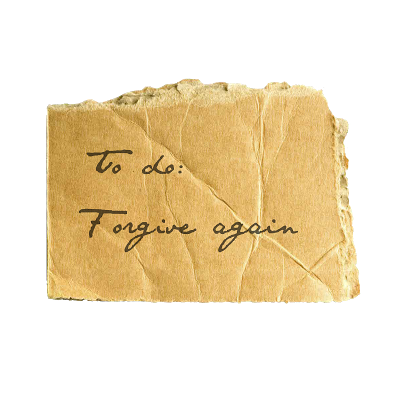 I dreamt I received a one sentence email about how I make the sender's blood boil when I do a certain thing.
My alarm sounded. I awoke angry. At the person who sent me the message. The message that was created in my mind.
Yesterday my Sunday school class studied forgiveness. Listen to these verses from Luke 6:
"But I tell you who hear me: Love your enemies, do good to those who hate you, bless those who curse you, pray for those who mistreat you. If someone strikes you on one cheek, turn to him the other also. If someone takes your cloak, do not stop him from taking your tunic…
"Do to others as you would have them do to you.
"If you love those who love you, what credit is that to you? Even 'sinners' love those who love them. And if you do good to those who are good to you, what credit is that to you? Even 'sinners' do that…"
I am trying not to read too much into my dream (except since I'm writing a gazillion-word blog post I think we can safely say I am reading a lot into it). However, I know I have unforgiveness toward the writer of my "dreamail" so deep it usually stays buried. Occasionally, its ugly head pokes its way into my thoughts and begs for attention.
My fury over the imaginary email festered a bit but quickly turned to shame. I started to beat myself up for anger at something that didn't happen.
Then I began self-talk that went like this: "You are so messed up. Why can't you get over this situation? At church yesterday, people in Sunday school made it sound so easy to forgive. You're supposed to forgive if you want forgiven. How hard can that be? Why are you holding onto offenses that need to be released? God will not forgive you if you don't let this go, if you don't forgive others."
Aaahhhh! Unforgiveness with a side of shame. Truly a great way to wake up!
Self-bashing meanness doesn't have a reputation for being productive, so when I realized what I was doing, I scooped even more shame on top of my shame.
And the wheel of crazy spun faster. And faster.
Here are the steps of the unforgiveness cycle that can drive you mad:
2.     Know you should forgive the offender because God commands you to. (Colossians 3:13: "Bear with each other and forgive whatever grievances you may have against one another. Forgive as the Lord forgave you.")
3.     Agree with God because that's the only way to be free.
4.     Forgive. Think it. Pray it. Write it. Say it.
5.     Realize you're still really pissed.
7.     Continue to hold a grudge against your offender but enjoy the added shame for your inability to forgive.
I've been awake for about four hours now, aware that my dream was just that. A dream. I have confessed my issues to God and have forgiven this person – again.
Prepare for my Lightbulb Moment!
Today I finally recognized with clarity the feelings of shame attached to my repeated forgiving of the same hurt. I think I'm onto something. Identifying the self-loathing will diminish its power.
Some free lessons for you from the vast wisdom I have gained in my four hour journey since I got out of bed:
1.     Forgiving someone is a process. For some deep wounds, you may just need to forgive again and again.
2.     Forgiveness is not easy, no matter what you may hear at church. Despite wanting a black and white world, life is always going to be fifty shades of complicated.
3.     Self-forgiveness is the most difficult. For me, this is true anyway. We are inside ourselves all the time. We know what is going on upstairs in our beady brains. We are usually well aware of the sinful thoughts that percolate in our minds and our motives for turning those thoughts into reality.
4.     Shame builds when you struggle with forgiving someone. Guilt and shame develop because you assume you failed at previous attempts to forgive.
5.     I fully believe that God is a merciful God and for that reason, you can break free from this emotional cyclone. "But when the kindness and love of God our Savior appeared, he saved us, not because of righteous things we had done, but because of his mercy" (Titus 3:4-5).
You have the power in Christ to gather your harmful thoughts and lay them at the foot of the cross. I like to picture myself piling my baggage right up against the wood, in the shadow. All God sees is the cross, not my stuff.
6.     God knows our struggles. When I feel like there is no hope, that I will never get this forgiveness thing mastered, I make myself remember that God knows what my problems are and he knows where my heart is, more than I do.
Do you hear me? Jesus knows what you're thinking! He knows your heart, knows you are trying. Knows why you struggle, why you hold on. He loves you. He gets it – he knows life is hard (look at his life!).
He knows the pain that has brought you to this moment.
I may be the only one who has these struggles, but I doubt it. Let me know!