09 Sep

We Have Met the Enemy

Every February, our family drives two hours to a cabin in the mountains with fifteen to twenty teenagers from church for an annual retreat. One thing I've learned about teens in my nine years of being a youth leader is – junk food is essential for life, growth, socialization. Mountain Dew, Dr. Pepper, Doritos, Whoopie Pies. Ahhh. Sweet.




 




Another thing I've learned about teenagers is – when one of them is captain of the winning team in a game called

Haircut Football

and is given the opportunity to style (shave, cut, dye, whatever) the hair of a certain male authority figure, like, say, Lee Landis, never (ever, ever) will that person take mercy on an old man and let him keep his

dignity

, or hair.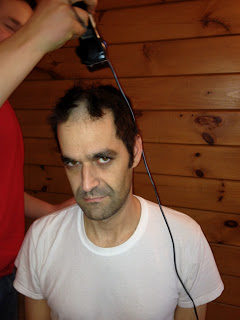 His team did not win.
But Haircut Football is not what today's blog post is about. No, it's about junk food. But not really.
A few winters back, I visited my sick niece in Indiana and missed the retreat. Lee did the Mr. Mom thing and took the youngins to the cabin.
Saturday morning, my son Alex, who was four, bypassed the bagels, grapes, and cereal and went straight for

honey buns

. Sticky, mass-produced pastries, individually wrapped in plastic.
He

devoured

a bun and asked his daddy if he could have a second. Lee's first reaction was to say no. As parent, he is programmed to withhold most things his kids want.
He paused though before answering and considered his situation: "We're at the mountains with a bunch of junk-food-ingesting kids. JJ is not around to

critique

my parenting decisions

. Every surface in the kitchen is concealed by a layer of

processed food

so any pipedream of a healthy weekend is caput regardless of my decision."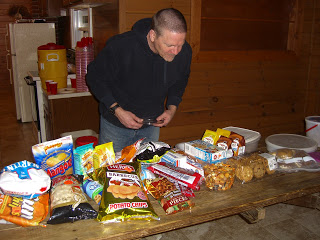 The stars were aligned. The rules were removed. Game on.

No food limits

for the Landis kids all weekend.
Alex ate another honey bun.
And another. And another.
That third another, Alex could not finish.
For whatever reason (hmmmm?) most details from the weekend were withheld from me, but I do know that on Sunday morning, Lee wryly asked Alex if he would like a honey bun for breakfast. Alex declined, "

No more

honey buns, Daddy.

Please

."
Lee's moral of the story is: Sometimes it's okay to let kids give into their cravings, desires. Parents should give up control once in a while. Let them

overindulge

, so they can learn consequences. If you eat too many honey buns, you may puke. If you play Wii all day (a certain daughter of ours did this yesterday at a friend's house), your eyes may burn. If you stay up all night, you may be tired. If you spend all your money today, you won't have

money

tomorrow.
The phrase, "I've been honeybunned," is a permanent fixture in our family's vocab now. It applies even with non-honeyed food. Tends to happen to me when

Twizzlers

are nearby or when I make a batch of cookies and eat half of them in dough.
Just this week, I bought two bags of Twizzlers because I had a coupon and then had to ask Alex to

hide

them from me. Self-control, bye-bye.

Chewy

, sticky, red goodness, hello!
Esther came home from a sleepover a few weeks ago and told us she got honeybunned on a certain TV show she watched for hours. You can get honeybunned on anything you take to an extreme.
Another example of Lee's fabulous parenting follows.
This May, I missed another annual event. Our Camp-with-the-Neighbors-Because-Our-Warm-Waterproof-Houses-Just-Aren't-Close-Enough-Together-and-Our-Own-Bathrooms-Are-Too-Clean Memorial Day trip.
Lee, Esther, Alex, and a friend of Esther's went on the vacation while Emma and I stayed home. Not sure how it all went down, but I do know (because I paid all the credit card charges) that several dozen

donuts

were purchased at Dunkin' Donuts on their way to and from the campground. At one point, Lee challenged the kids to eat more. He taunted, "You can't eat any more?" "Yes we can!" said the kids. They ate and ate until one child actually had to spit out a bite. Just could not. Eat. Any. More.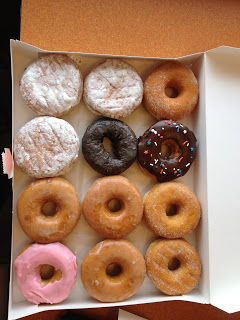 Some of the offenders.
The precious girl who tagged along ate

no dinner

when she was delivered back to her mom and dad and would not look at sugar the next morning for breakfast. (I'm sure her mom is going to be quick to let her hang with us more often!)
Did you know this is in the Bible? Proverbs 25:16:

I

f you find honey, eat just enough – too much of it, and you will vomit.
We hear it all the time, right? Everything in moderation.
Too much work. Too much TV. Too much food. Too much exercise. Too much dieting. Too much volunteering. Too much buying. Too much pampering. Too much alcohol. We stuff ourselves.
Another example of Lee's fabulous (for real) parenting:
Every six months (it's actually on his calendar) he leads a family discussion based on a book he read called We Have Met the Enemy:Self-Control in an Age of Excess by Daniel Akst. Lee asks the kids why Mommy and Daddy tell them no sometimes when they want TV, ice cream, chicken nuggets. He also gets them to explain why those things are not inherently bad. He wants them to understand balance. Moderation. Eat a brownie. Don't eat thirty brownies. Watch a movie. Don't watch TV all weekend. Play a game on the iPad. Don't become a slave to electronics. Spend money on something you want. Don't go into debt. Work. Then enjoy your play. But do both.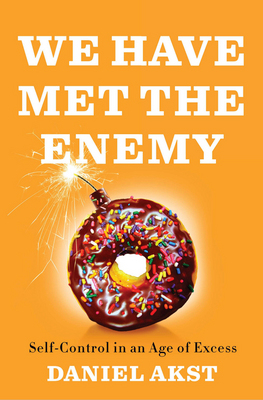 The enemy is not the donut. Or the honey bun.
A life of balance is tricky in our world of excess and entitlement.
Any ideas you have for keeping balanced? Teaching self-imposed limits to kids? Dealing with our glut of food and wealth in North America?
The sweet spot of balance is hard to find.