16 Oct

The orange shirt

As I look around my office this morning, I am a bit convicted by the kindness of my husband. The slick, black

keyboard

I am typing on magically appeared one day after I commented that my white one was interfering with the feng shui of my office.


When my monitor needed replaced a few years back, I was granted not just a larger screen, but dual monitors. My husband insists that two (or more) monitors are necessary to get anything accomplished.

I sit at my rich espresso-colored desk. After a week of stepping over Styrofoam and

900 cardboard boxes

while saying (and there is a slight chance I used a passive-aggressive tone, but I just don't remember), "I will put my desktogether tomorrow. No, it's okay, I want to do it. No really. It will be fun," I came home to find a sturdy new desk completely assembled.

All this

niceness

from him just makes me feel worse sometimes.

Last night I lay sprawled on our bed like a dog to read to the

kids

when Lee began to head downstairs. I paused the story to ask if he would carry one or two of the bags piled in the corner of the room down with him. They were exploding with clothing I had collected to place by the curb for today's Purple Heart donation pick-up.

He lifted one of the see-through-ish bags. We may have all been okay had I not let escape a gasp when I glimpsed a hint of orange through the plastic.

Shoot!

I saw my life flash before my eyes. I was keenly aware of what was happening as it unfolded before me in slow motion. The pain on his face. I waited for the words.

"What?"

A plaid, button-up shirt given to him YEARS ago by a cousin who was finished with it after wearing it for YEARS.

See? I am a bad,

bad

person.

I just got so darn sick of seeing him in the same shirt every day! I thought if Mr. Orange vanished without a trace the way would be cleared for Mr. Green and Black

flannel

to have a chance to see the light of day.

It did not cross my mind on my clothing

purge

that Lee was comfortable in his trusty old shirt. It did not matter that beauty is in the eye of the beholder. It did not occur to me that his stuff should be his stuff for him to keep or discard at his own discretion. I cared only about

pleasing

my delicate eyes by dressing him in rugged flannel that would bring out all the good in his dark, mysterious look.

Mind you, the man has not once (EVER!) said a

negative

word to me about how I look.

I am well aware of the Golden Rule.

Jesus said: "S

o in everything, do to others what you would have them do to you" Matthew 7:12.

I like to think I make a good attempt to treat others with

kindness

and empathy.

But clearly, I was not obeying that rule when the shirt didn't make it from the dryer to the

closet

a few weeks ago.

Is this how I want to be treated? Of course not. Everyone can just keep their grubby hands off my t-shirts with armpit holes and tie-die/bleach/fail

hoodies

.

Lee would never give away anything of mine. That's because he's not a

bad

, bad person.

Why am I so selfish? Calloused? Judgmental? Controlling?

What do I care what the man wears? It's not like he's a trophy husband trying to make a good impression at my ultra-important, high-powered job (you know, the one at the glamorous

public library

). He is the most self-assured person I've ever met. Does not care in the least what people think of him, which makes most people think highly of him.

After letting me squirm and

apologize

, he quietly (and kinda smugly) undid the knot, dug his precious shirt out from the other cast-offs, and graciously continued on his way downstairs with bags in hand.

Getting busted gave me some things to think about. After

wallowing

in guilt and being teased (yelled at) by the entire family, I remembered I am a sinful, selfish creature in need of the divine insight of my heavenly father. The one who doesn't let orange plaid block his view to my

husband's heart

. I knew Lee liked his dern shirt and I should have respected his opinion.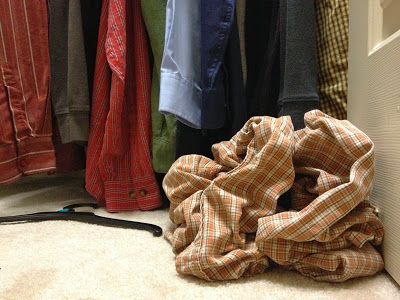 Here lies the beloved reclaimed garment.

The moral of the story is (choose as many as you like):
Use opaque bags for donations.