19 Nov

The Morning of the Pants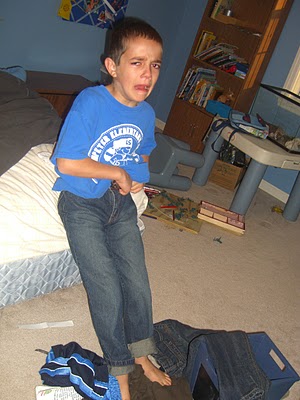 It all started when someone made a comment about Alex's pants being too short and how his appearance is my fault. Scandalously, I tend to be the mom who lets my children generally choose their own clothes. A few mishaps from that decision are pictured here: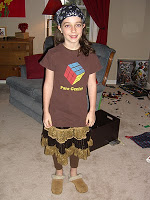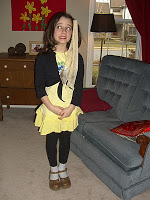 The reason for this permissiveness is to some extent laziness on my part, but I do maintain my prediction that the more hands-off I am in raising my kids, the more self-reliant they will turn out to be. When the kids want to do things like make a dessert or an art project or a fort, I ask them: "1. Do I have to help? 2. Do I have to clean up your mess?" If they answer "no" to both questions, I let them have at it.
Okay, don't judge me! The dears are not neglected. I've been blamed for being over-involved with some things; usually those are the responsibilities they haven't yet mastered. Studying for tests, eating balanced meals, saving money – with these things, I can be a bit of an ogre. But I figure when they're four or five, kids pretty much know how to put on their own clothing.
Alex likes his high-water pants because they are the ones that fit his scrawny waist. He also has shirt and shoe issues – t-shirts with no pictures and crocs with no socks are his preference.
So, having hurt feelings about the comment on Alex's appearance, this morning I pulled out some brand new jeans that were waiting in his drawer for him to grow. With a bit of tightening of the adjustable waistband, the pants appeared to me to fit quite nicely. Alex on the other hand had a breakdown. Exhibit A: photo above.
He put on a belt and tightened it tourniquet-style to prove the point that the offending pants were too big. A great idea until he sat down and the strangling belt pinched him. He also rolled up the cuffs in a fit of rage and begged me to let him change clothes.
I gave him the good mother speech about how we should be thankful for what we have (new clothes) and that we can't always be totally comfortable in every piece of clothing.
He greatly appreciated my lecture (and the picture-taking).
When we finally patched things up, I graciously let him eat a second breakfast, which made everything better. Exhibit B: photo below. (And yes, I did let him go to school with his pants rolled up like that.)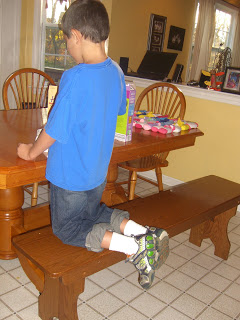 Morals of the Story:
Number 1: Don't be too quick to judge a child or the child's mother.
Number 2: Find the humor in your kids' quirks.
Number 3: Be happy if your clothes fit.