06 Jan

Thank you for letting me walk with you

Posted at 16:52h

in

beauty

,

blessings

,

courage

,

crying

,

disappointment

,

fear

,

grace

,

kids

,

living for real

,

love

,

pain

,

parenting

,

perspective

,

prayer

,

real life

1 Comment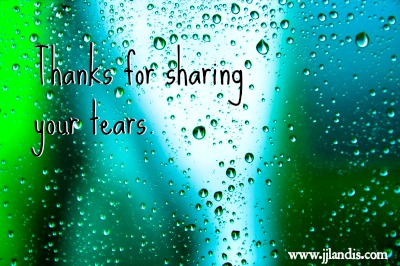 When friends struggle, it's common to say, "Let me know if there's anything I can do for you." We say that when we don't know what to do or say. I added to that recently, "Do you want me to come over? I can." She said yes and gave me a priceless gift and many lessons.  
Thank you, my friend, for letting me walk this journey with you.
Thank you for saying yes when I asked if you needed anything.
You let me in to see your devastation.
You welcomed my presence, even though I had nothing to offer (besides chicken and soda).
I can't fix anything.
I can't even understand your pain. At all. What you are going through is something no one should have to consider.
You trust me with your tears and your honesty.
You believe me when I say I will pray.
You believe that I will be gentle with your pain.
If (when) I am stupid and insensitive, you know my heart and choose to not take offense.
Thank you for that hug where you sobbed and got snot on my shoulder! There is no greater gift than being that close to another's emotions.
Thank you for talking to your child like she's a strong person and for sharing yourself with her in a way that is equipping her for a life of compassion and devotion to Jesus Christ.
You could be modeling anger and resentment. Instead, grace.
Thank you for being overjoyed at the sloppy sentiments my daughter gave to you in the form of a crayon drawing.
Thank you for wanting the best, even when "what's best" is what causes your heart to break.
Thank you for sharing your family with me. I feel like I'm at home in your home.
So many people pretend they are fine when they are not.
Thank you for admitting when you aren't fine. Your honesty and strength are refreshing.
I've seen more beauty and more of Jesus in this sucky situation than I have in a long time.
Thank you for agreeing to let me post about you, without having read it. 🙂
Thank you for letting me walk with you.
---
Image courtesy of samuiblue at FreeDigitalPhotos.net