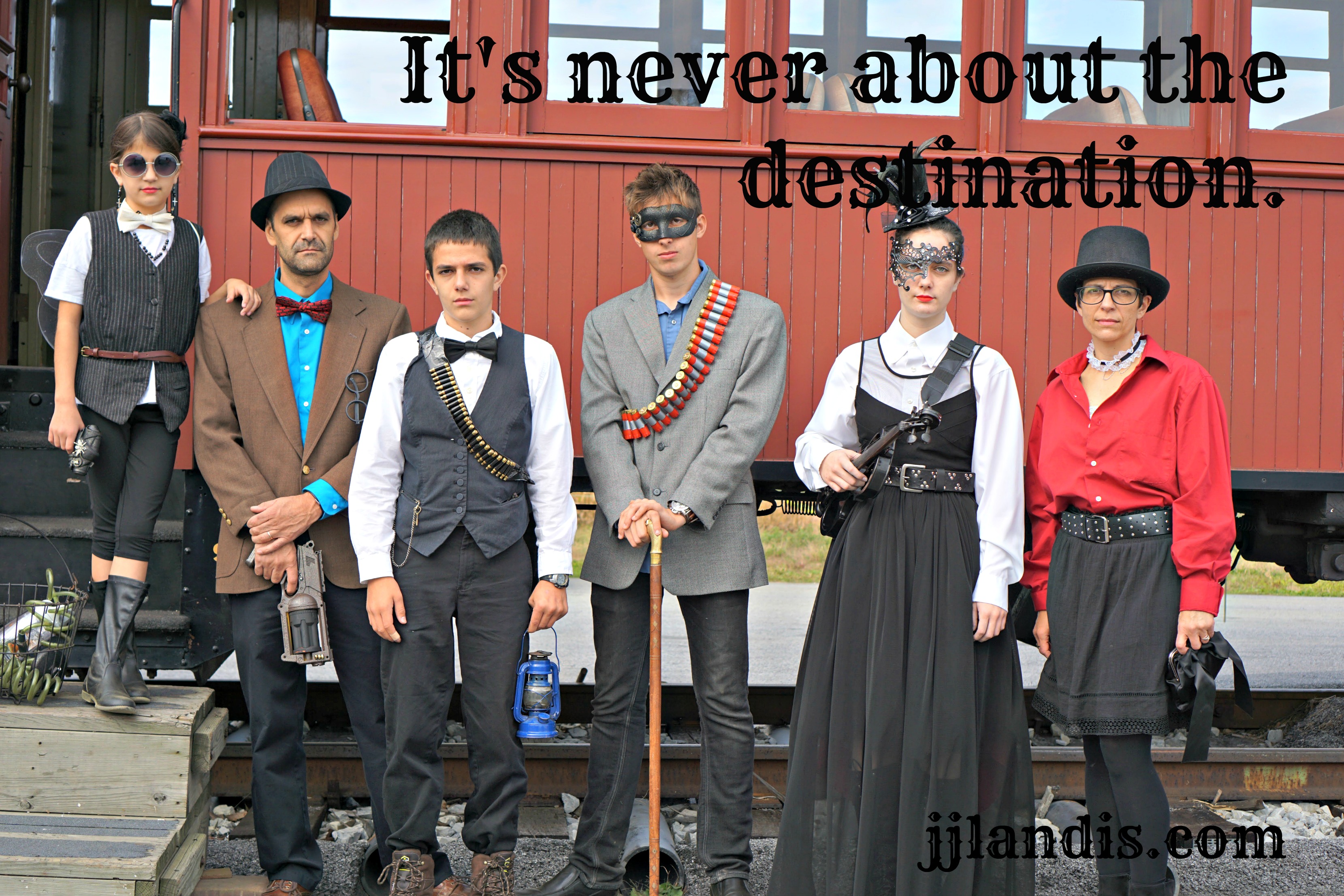 02 Nov

It's never about the destination. Our steampunk experience.

The bin that holds bits and pieces of past costumes was retrieved a few weeks before Halloween from the shelf above the dryer. Angel wings, a Mardi Gras mask, a studded black belt, a top hat, and other treasures were found and spread all over my bedroom floor.

My office floor was covered with 12-gauge shotgun shell casings (don't ask where they came from) and rolls of duct tape where Alex spent hours constructing ammunition belts.

As if that was not enough junk, the husband and two kids paid a visit to Grandpa and came home with a wire egg basket, a cane, a hat, and some other odds and ends.

The garage and deck became painting workshops where the mask, the wings, a squirt gun, and a two Nerf guns were spray painted sparkly black.

The kitchen was the jewelry studio. Ribbons, buttons, and beads covered the surface of the table, ruining any chance of eating a meal there. Esther designed a choker-length necklace and a pair of earrings, and then she fired up the hot glue gun to attach to the plastic guns a dragonfly and other shiny insect ornaments found in the bottom of the long-neglected box of beads.
My husband had sparked our interest in an event called Steampunk Unlimited that was going on at The Strasburg Railroad, a local tourist attraction.
The ordeal began innocently enough – all we wanted was to give our exchange student a ride on the train. But when we discovered it was steampunk weekend, things spiraled out of control until we were full-on steampunk enthusiasts, if just for a weekend. He gave 15-year-old Esther the assignment of outfitting the entire family in costumes fitting for the steampunk style. She was quick to take charge and acted like a professional Broadway costumer.
As these preparations took over my house, my anxiety amped up reminding me that I don't handle life well when my spaces fill up with what I deem to be junk.
However, I chose to leave my hands off this chaos that had the potential to make me claustrophobic and mean, because I sensed a togetherness between my children that doesn't happen as often as it did when they were younger. Eager to cling to any display of family affection, I bit my tongue and didn't pester anyone to clean up.
I held out for the greater good. Choosing to ignore the disorder allowed me to direct my focus to the big picture of what was happening.
My teenage daughter was working in tandem with her father for the enrichment of our entire family. Once Lee had it in his mind that we would dress in costume, he set Esther free to run with her talents. Had I nagged, the creativity would have died along with the fun bonding moments they were having.
As my son sat in my office cutting and cutting and cutting duct tape, he was not on his phone, watching TV, or playing Minecraft. He was using his ingenuity to make something out of supplies at hand. When a 13-year-old boy gets involved in a crafty project, I say it gets encouraged at all costs.
Once we were finally in costume and at the railroad, we didn't do much other than gawk at people and ride the steam engine. The planning took three times as long as the actual occasion.
But the takeaways from our time as steampunks were not the costumes and the train ride. They were family, unity, teamwork, respect, time, memories, and laughs.
When we're able to take our eyes off the immediate, the messes in front of our faces, we are better able to focus on the big picture. It's never about the destination.
A few lost bits of my sanity and a messy house are always worth it for family. There is something sublime, almost sacred, about a teenage girl working on a common goal with her father. The moment when siblings, exchange student, and parents all agree to look ridiculous together for the sake of Team Family… that is a holy moment.
---
Photo by Chad Harnish