14 Jan

Sound of Silence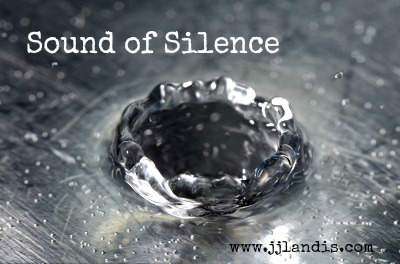 What would you do if you had 37 hours of silence?
I had those hours at a Silent Sanctuary Retreat last weekend. I was asked to attend as a guest, to share with the group before the silence began.
When I told people I was going to a silent retreat, I got all kinds of looks and comments.
"You? Silent? Haha!" was one.
Some others (mostly from parents of young kids) were: "That sounds amazing." "I am jealous." "LUCKY!"
My favorite though was, "Why?"
Why, indeed! (My answer, "Ummm. I dunno.")
Since I had never participated in such an event I wasn't sure what to expect.
It had been an emotional week. I went into the retreat center Friday night with a two-day-old headache and utter exhaustion. All I could think about was rest.
They go together – silence and rest. Solitude. Peace.
Silence, rest, solitude, and peace are not popular things to strive for in our society. More admirable is to aspire for activity, work, value, esteem, possessions.
Did you hear of anyone making a New Year's Resolution of "more rest" or "more solitude in 2016?" Did anyone emerge from the Christmas season speaking of rest, peace, and contentment? When I ask someone about a vacation, job, holiday, weekend, or whatever, it's likely I will hear the bits that bring stress and the woes of all-consuming busyness.
It's not so hard to go days, weeks, a lifetime without stepping away from the frenzy to take a breath. Distractions are plentiful: television, games, books, food, social media, friendships, church, volunteering, work, and on and on. I am quite skilled at keeping my mind spinning so that I won't have any brain energy left to realize that my soul is weary and my spirit is dry.
Phileena Heurtz in her article Spirituality for Our Time: Solitude, Silence & Stillness said:
"God wants to meet us right there, in our uncomfortability, loneliness, isolation, anxiety and depression. Avoiding the inner darkness by keeping busy, hyperactively plugged in doesn't make the pain go away. It only grows and secretly drains the life of our true self."
A quiet space and still body does not necessarily make for peace. Having the right atmosphere can help, but it is not a given that a silent space will produce a resting soul.
It takes deliberate action.
Part of my silent retreat was restful and filling. Some of it was heavy. Thick solitude weighed on me, causing me to think more than I am usually comfortable with. Having unscheduled time can be a dangerous thing.
I slept and read and prayed. I sought God for direction. I journaled. No big breakthroughs. No life-changing ideas. But a lot of peace. A lot.
---
(I know I didn't explain the logistics of the retreat. You can find more info at Black Rock's website.)
Image courtesy of holohololand at FreeDigitalPhotos