22 May

Some Things You Keep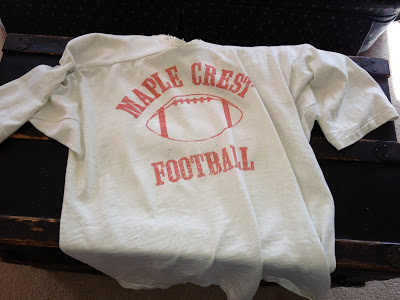 A chill in the air,

cheerleaders

springing up and down full of contagious pep. Bundled fans with cold bottoms frozen to the metal bleachers. Football in the Midwest. My brother played on the middle school team, which earned him this jersey. The jersey served as my pajamas for many years but now hangs

lonesome

in the back of my closet, next to my wedding dress and cap and gown. Some things you keep.
**********************************************
From third grade on, I wanted to be a cheerleader. Prior to that, my dream was to be on the PBS show Zoom, and if that didn't work out, I would be a school teacher who was also an

actress

on Charlie's Angels.
My cheerleading dreams required me to learn every cheer and chant I could and to be a learned gymnast and acrobat, in case the cheer clouds ever parted to spill

droplets

of popularity on me. Long before I was eligible to become a bona fide cheerleader, I pedaled my bicycle in and around my neighborhood practicing my yells and hand motions: "W-I-N, the Mustang team will win!" The

neighbors

must have thought I was so cool.
More grandiosethan my desire to cheer was my wish to wear the school's cheerleader outfit, a black and orange skirt and black sweater with orange stripes down the sleeves and a mustang across the chest. Four seventh grade and four eighth grade girls were shot to

stardom

if they earned a spot on the squad. On game days, they wore their uniforms to school. Even on the cold, winter days of basketball season, their legs were exposed in their short skirts with bobby socks hugging their ankles. What celebrity power! Bare legs in the middle of winter, amazing. I drool to this day just thinking of the

glorious

life of a seventh grade cheerleader.
When my cheer dreams were still young, a new girl moved to my school. We were in the fourth grade. Our moms hooked us up to be

walking buddies

. Each morning, I meandered through the maze-like streets of our subdivision and collected her on my way to school. We were instant friends, bonding over important world events such as

Shaun Cassidy

and his hunky feathered hair, Mork and Mindy rainbow suspenders, chess, and cheerleading.
Cindy and I spent most of our fifth grade year

plotting

out our futures. Mine involved being a very famous cheerleader (you know because there are so many famous ones). Cindy was resigned to be my

coach

and manager. She drilled me on cheers (we knew them all). Choreography and skills. Stiff arms. Loud, choppy voice. Smile smile smile!
I am not sure how I got the celebrated role while she planned to be

behind the scenes

. My guess is she doubted her abilities. She was not overflowing with confidence with her fiery red hair color being the first

noticeable

trait when she was near. Though I tended to be the doof of most friendships, always the short clumsy one, in my friendship with Cindy, I fell into the part of outgoing friend. It was a confidence building alliance for me. Cindy even thought I was funny and laughed at my corny humor. (She still does!)
Sadly, Cindy's father's job forced a move to another city about a week after my mom died. I lost a lot. Not just my mom and my best friend, but the camaraderie of having a buddy in the trenches of dorkdom.
Cindy's departure did not stop me from

coveting the superstar job

of cheering for a team, any team. The Hallelujah Chorusflowed from the lips of angels when I received a phone call from a family friend asking me to cheer for a community league football team. She wanted me, ME, to be a cheerleader. A real one!
I did not even care that this was a lesser position, completely undesirable for the truly popular, talented, beautiful girls out there. I tried not to care that this job did not come with the cute skirt but rather

navy sweat pants

.
When I began to cheer, I realized I had spent so much time learning my trade that I had neglected to learn any rules of football. All I cared about was that I got to stand on the high school track and use my well-honed choppy, happy voice and stiff arm movements to

inspire

spirit for my team of little boy football players.
The last conversation I had with my mom was on the rotary telephone hanging on the wall in my brother's apartment. Located above my dad's nursery school, the apartment was a fun hangout for me when I needed to escape the masses of short, loud people called toddlers at the school where I spent most of my time. My mom and I talked about our plans for the evening. I asked if I could go to the fair with Dad.
The next morning she would be dead. I do not know why I didn't share my Hallelujah Chorus cheerleading news with her.

Regretfully

I ended our phone call without her knowing of my fabulous opportunity. For years, I clobbered myself asking, "What if I would have told her? Would that had made a difference?"
A yellow, storybook Saturday morning, my 19-year-old brother, Jeff, sat in the stands to watch me cheer. Crisp fall air, bright sun, small

breeze

, hoods and hats on the heads of almost everyone. It should have been a perfect day. Perfection was impossible though for us, because our mom had bailed on us. We were alone, the two of us,

surrounded by noise

and crowds.
During or after the game, he took the time to scrawl a note on a pink piece of paper that I still have. "

Dear Sis

, you did a great job cheering today. I'm here if you need me. Love, Jeff." I did need him, but was too young to realize just how much.
Though it had been a goal of mine to be on the school cheer squad, I became a

chicken

when seventh grade try-outs came about. Girls vying for the four spots on the team performed a cheer all alone in front of the entire student body. Spectators cast a secret ballot for their favorite and winners were announced at the end of the day. It was a ridiculous popularity contest, constructed to

crush the self-esteem

of young girls.
I told myself I was unlikable, too shy, and not perky cheerleader material, despite my vast experience (four or five games) rooting for the community team. Perhaps I was afraid of failure. Or of success. Maybe I was fearful more bad things would happen to me so I avoided any potential for happiness. I later regretted my fear, but come on, a mom's suicide and the loss of a best friend surely are reasonable arguments for my hesitation to subject myself to humiliationin front of the entire school.
My chance for being a seventh grade cheerleader was nailed shut in a coffin of lost dreams.
The tide veered slightly by the time eighth grade rolled around. I had

summoned the courage

to try out. I knew being a cheerleader at school would change my life. I would have instant friends, ones who knew how to wear makeup and style hair. I would be cool and popular. I would get to wear that amazing black and orange uniform to school. Pure bliss and perfection.
On tryout day, the other girls wore black shorts and orange t-shirts, school colors. This was not a required outfit, but rather a tradition. I rocked the boat and wore orange shorts with a black shirt. That's right. I was certain the voters would acknowledge my

scandalously brave

move. Switching of the standard audition wear would earn me a few votes I reckoned.
The winners of the vote were posted in the girls' locker room after school. A sheet of lined notebook paper was carried into the room by the gym teacher. She weaved her way through the throngs of expectant girls, all thinking

they would just die

if their name did not appear on that loose leaf paper, and taped the list to the gray cinder block wall. Girls pushed their way to the front to peer at the holy grail of middle-schooldom to read the names of the coveted eight slots for cheerleaders. To find out who would be stars.
My short, noncompetitive self was in the back of the mob, waiting for a chance to move forward. I heard a few exclamations – "OH!" – some in happiness, some in disappointment before I inched my way to the list.
Next to me Marybeth, with long brown hair and muscular calves, jumped up and down squealing (quite uncheerleader-like I might add), that she made it. People

congratulated

her and she said, "Oh, I can't wait to tell my mom."
 

          

It was then I read what I already knew – the list did not include my name. My plummet was punctuated with Marybeth's ridiculous

squawking

. Knowing I couldn't have told my mom the good news anyway, I left the locker room and carried on.
(From Chapter 8 of my unpublished memoir "Points of Light.")