19 Jan

Shatter Me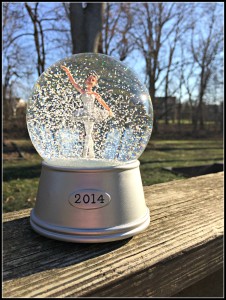 Ballet is my daughter's love. She also collects snow globes. If those weren't enough to make this an excellent Christmas gift from her big brother and sister, the tinkling music box plays a song from The Nutcracker, which she saw live (and adored) for the first time this Christmas season.
On New Year's Eve, when I asked my eight-year-old if I could borrow her present, she was quick to retrieve it for me to photograph. I had written a blog post on resolutions and how we should not worry about changing until we have first accepted who we are.
I took the treasure out to the deck to snap a few iPhone pictures in the winter sun. The ballerina stood firm in a world of perpetual snow. She was free to dance, no matter her circumstances. I saw so much that morning in our $12 Target find.
My creative juices paused when I came back inside my warm kitchen. I would publish the piece to my blog later, after breakfast. The kids sat on stools at the island chatting over bowls of soggy cereal. I handed the ballerina back to my daughter and she carefully placed it in front of her to look at while she slurped up her milk.
About the time I forgot about it, the snow globe shattered.*
A tsunami of water, glass, and glitter covered the counter. My son, ever the hero, jumped into action and first removed my laptop (whew!). I saved the cardboard cereal boxes (for some reason) and then screamed, "Get Away From The Glass!" before I moved close to my daughter who was bawling, legitimately heartbroken.
I choked back my tears throughout the cleanup process. My kid becomes attached to everything. She remembers for years where she gets her material possessions. And she cares tenderly for what she loves.
My tears were for her pain.
But also for the stupid symbolism in the moment.
I was minutes away from publishing my blog post which would feature the very thing that now lay in ruins.
The message of the post was to stop the madness, be content, be satisfied with yourself for today before you resolve to change anything.
As I was busy grasping that message, my music box dancer wrecked it.
In the real world, I was sad that the gift was destroyed. (I did drag my averse-to-shopping self to the store to scrounge through the discounted holiday items hoping to find a twin. My efforts were futile.)
In a metaphoric sense though, I felt a wee bit proud of our little dancer. She shattered her cold world of snow and broke out. She is on the way to a life of freedom! She was content to make the best of her circumstances as they were, but when she was ready, she chose to stop conforming to and performing for others.
Shards of glass surround her now, making her inaccessible, or at least dangerous, to those who dare touch her, or shake her, or use her for their own purposes.
Be free today, friend. Get out of your bubble. You are beautiful without make-up, without weight loss. Your imperfect kids, your messy house – all of this is you. Embrace reality and find freedom to dance.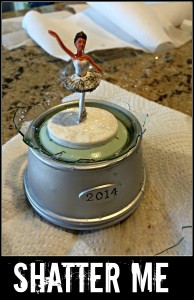 My 14-year-old daughter idolizes violinist/dancer Lindsey Stirling. (I can't imagine a better role model.) One of her songs is called Shatter Me (video below.)

*One theory for the breakage is the temperature change. My husband says that is not a possibility given conditions. Another theory is a person accidentally – or on purpose – broke the globe. This claim is vehemently denied by all parties present that morning.