02 Feb

Refuse to drown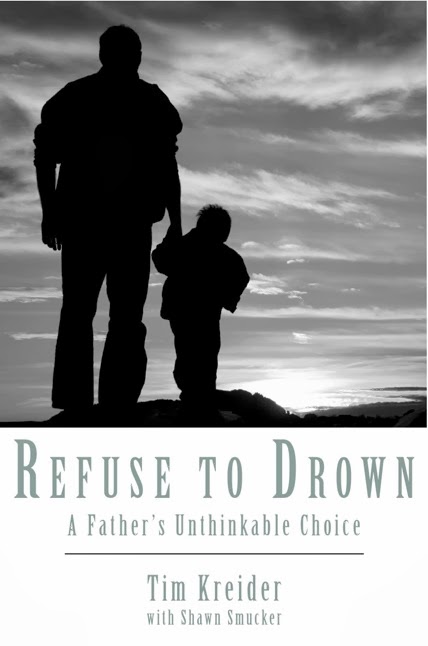 The Friday night before Mother's Day in 2007, someone entered a home and murdered a mom, dad, and high school son. Their college-age daughter fled to the safety of a neighbor's home.
This was headline news in our community for weeks, not only because of the brutality of the crime, but because the all the leads the police received were coming up short. Somewhere in our small city, the killer was free.
It was that day almost seven years ago that I began leaving my porch light on all night to deter potential criminals. The crime was so senseless – no theft, no forced entry – that there was no reason to believe it couldn't happen to my family next.
On Father's Day a month later, my family was set to depart on a trip with our youth group. We were dressed in matching t-shirts and took a few pictures in our front yard. I grabbed a cup of coffee and went back outside to read the newspaper in the warmth of a beautiful summer morning.
When I read the headline, I was overcome with nausea but also relief. A suspect in the triple homicide had been found. He was a teenager, a close friend of the teen who was killed. He confessed the crime to his father, who then had to quickly absorb the information and make the decision to turn his troubled son over to the police.
As I mom, I can't comprehend the pain of the killer's family. Why did this happen? What went wrong? Could a family friend ever murder me? Could one of my children ever do such a thing? Would I still love that child?
When I heard the father Tim Kreider wrote his account of those days, I knew I had to get my hands on a copy of
Refuse to Drown
.
Tim Kreider graciously and steadily articulates his perspective about his son and the crime that changed the course of so many lives. He writes the details with acute awareness, but doesn't neglect sharing his raw emotions.
His vulnerability should be commended. He lets us see his pain, from lying in the fetal position on his kitchen floor to being literally unable to move from his bed. But he also shares glimpses of hope through his faith and the kindness of others, which equipped him with strength necessary to get through each day.
Tim is respectful throughout the book of the victims and their family. He acknowledges that the surviving daughter's anguish surely must be greater than his own. He also treats with respect the community, the media, the law enforcement, his ex-wife, and his children. There are so many places in this story where Tim could have ranted about how he was let down or mistreated by someone, but he doesn't go there. He spent a good portion of time during the ordeal blaming himself, which is unfortunate, but inevitable as a parent.
Though heartsick while reading this book, I was riveted. It reads like the best of crime stories. But it's even better because it's an authentic view of the inside of a tragedy.