22 Feb

Promote purity (giveaway)

 

When my daughter came home from her young girls' church group, she had her arms full of gifts from her leader. One of them was a book called The Princess and the Kiss by Jennie Bishop.

 

How have I never heard of this children's book?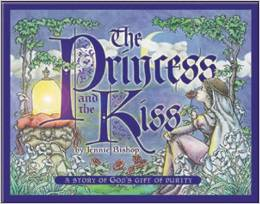 On the day a princess was born, her parents gave her a very special gift from God – her first kiss.
As she grew up, the royal couple kept their daughter's gift in their care.
They presented the "the kiss" to her when she was grown and explained how special it was.
The king told the princess, "This kiss is yours to keep… or to give away, as you see fit."
"But use wisdom, my daughter," warned the king, "and save your kiss for the man you will marry. Never part with it for the sake of a stranger."
And the story goes on – I won't spoil it.
I am going to read this to my children often. My daughters and my son. It's a great ice breaker for a discussion about purity, even for teenagers.
Don't be deterred because it appears to be a book for young children – some picture books span all ages. What child (or teen) wouldn't benefit from a good ole story time with Mom and/or Dad? I read books for little kids to my big kids all the time – it's fun.
In this day of Fifty Shades of Grey, which I am not going to rant about here even though I want to, I am even more determined to talk to my children about sex and romance. (Small rant: Why do women like 50 Shades? How is it a turn on? Why are women allowing the stuff that goes on in 50 Shades to become mainstream??? I want to scream. Two steps forward and three miles back concerning respect of women in our society. We say we are against sex trafficking and abuse yet we support this kind of entertainment?!)
I don't know what choices my kids will make but I want them to know that their body is theirs. We are told to flee from sexual immorality in I Corinthians 6:18. When we sin sexually, we hurt ourselves. When we give ourselves to others, we don't get that back ever.
I have three copies of The Princess and the Kiss that I would like to give away to three readers. This was published in 1999 so maybe you've all heard of it and read it and have a copy. But if not, please enter my giveaway. If you have a daughter (any age) or know of any young girls who need a gift, this is your chance.
There are five ways to enter: 1. Like my Facebook page. 2. Subscribe to my blog. 3. Tweet about the giveaway. 4. Follow me on Twitter. 5. Share my blog or FB post on Facebook. Three winners will be selected randomly on March 3.
a Rafflecopter giveaway