05 Dec

Ouch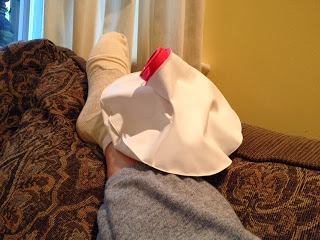 Today's post brought to you by Percocet.
Some reflections on

recovering

from surgery: 
If I'm not careful, my family is going to wish me a long recovery because so far the meals delivered by friends have been

tastier

than our normal dinners. (And nothing has been burnt. That may be the key.) 
For all of my friends and family who have been down with illnesses and surgeries, I am so sorry for not moving in with you and becoming your temporary

slave

. I had no idea. 

 
I seriously would have no problem living my life on the couch. I have my computer, phone, three

books

, journal, crackers, meds, water, chaptstick, lotion, tissues, blankets, pillows. If only my foot was not constantly throbbing, aching, stabbing, itching, this wouldn't be so bad. As it is, I mainly stare into space,

sleep

, stare into space some more, think about blogging, take a pain killer, and sleep again.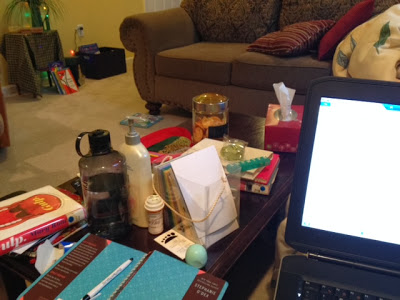 I may end up needing knee surgery when this is all over because I have walked on my knees to the kitchen more times than I will admit for a

cup of coffee

. Haven't figured out how to transport a hot beverage while using crutches. Why aren't there cup holders on these things?
I have absolutely no idea how I am going to work while not putting any weight on my foot for the next few weeks. Ever try to walk on crutches while carrying armfuls of library books? Me neither.
My kids aren't

sympathetic

when it comes to their mom being injured. One told me I look terrible (I do. But still!). One thought he/she needed a reward for delivering a cup of water to me (Are you kidding me? I wiped your butt for two years and you won't bring me a drink of water?). One complained about having to help MORE because he/she already did soooooo much for me after school yesterday. 

Ungrateful

little creatures. Who raised them anyway?

 
Thus ends this week's deep, insightful post. It's time for me to stare at nothing for a while.