28 Jan

Orange is the new black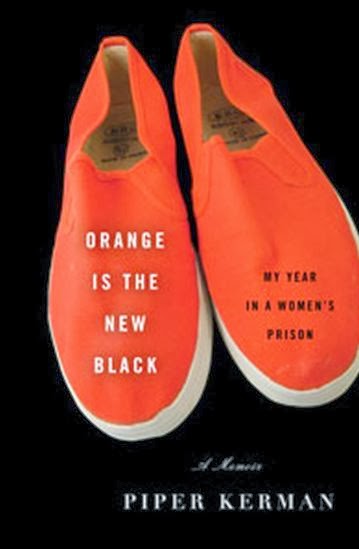 I had heard about a show on Netflix called
Orange is the New Black,
but I didn't pay much attention to it until I realized it is based on a book, a memoir of the same name written by Piper Kerman. I devoured the book and now plan to check out the show*. I'm a sucker for any nonfiction that takes me to a life I will never experience!
And jail is one of those places.
Piper was a directionless young adult lusting for adventure. She possessed the invincibility mindset many young people have. She found some exotic friends who traveled the world and made a lot of money in mysterious ways. This intrigued Piper and eventually she became involved in a drug ring, smuggling money.
She experienced some close calls and worried her family with her elusive and vague explanations of her work. When she realized she was in over her head after just a few months, she managed to break free without many repercussions and move on with her life, keeping the details of her past secret from her family and friends.
Years later, she got a knock on her door from the police. Thus began several years of wading through the legal system awaiting a prison sentence.
Ten years after her crime, she was given a 15-month sentence a federal prison.
Piper accounts with a good balance of emotion and objectivity her time in jail. She remained constantly aware of her upper middle class status and privilege. She was educated, relatively wealthy, and had a job waiting for her upon release. She received many regular visits from her family, friends, and fiancé; and countless letters and books flooded her during mail call. All the while, surrounding her were inmates without such good fortune.
Piper shares with the reader her fears and vulnerabilities. She explains her coping techniques and how she moved from one day to the next. She forged friendships with unlikely characters and found herself indebted to many for their kindness. She saw courage and dignity in some, but overwhelming desperation and hopelessness in most.
Not much was done within the walls of the institution to prepare the women for their reentry into the real world.
Very few books are written from the perspective of a woman inmate, which makes this story a rare and fascinating account of what goes on behind the barbed wire.
I was pleased to see eleven pages in the back of the book listing various justice reform resources, arming the reader with a way to take action on behalf of prisoners.
*TV show: Too much sex, which is a shame because the premise is excellent. Though it is discussed in the book, sex is not performed for the reader like it is in the show. Grrrrr.