15 Oct

One two three one two three drink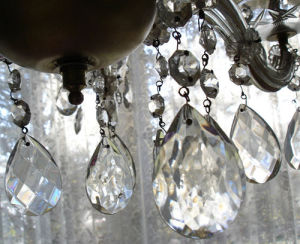 I am obsessed with the song Chandelier by Sia. My first listen was when my 13-year-old showed me the video. A captivating dance accompanies the song. A still-curveless, 11-year-old girl wearing a skin-colored leotard is shocking as she spins and flips through a dirty, gray apartment. Her flawless moves are at times graceful and at other times purposefully disconcerting. She portrays someone who is clearly mentally unbalanced. She is alone and confused, which is the perfect fit for the solitary, ashen setting. Striking. Disturbing. Sad. Hollow. But it's so beautiful and I cannot tear myself away. I've watched the video countless times.
Sia, the co-writer and singer of Chandelier, does not appear in the video; and when she performs it on television programs (The Ellen DeGeneres Show, Jimmy Kimmel Live!, and others), she keeps her back to the audience and lets Maddie Ziegler steal the show with her talent. With our vain "look at how sexy I am" music culture, this face-hiding intrigues me.
Dancer Maddie was noticed by Sia on the reality show Dance Moms. Sia reached out to Maddie on Twitter and invited her to star in the video. I am nothing if not a sucker for "dream come true" stories like this.
It's not just the tremendous dancing that keeps me staring robot-like at YouTube. The lyrics are also hauntingly touching.
Party girls don't get hurt
Can't feel anything, when will I learn?
I push it down, push it down
I'm the one "for a good time call"
Phone's blowin' up, they're ringin' my doorbell
I feel the love, feel the love
1, 2, 3, 1, 2, 3, drink
1, 2, 3, 1, 2, 3, drink
1, 2, 3, 1, 2, 3, drink
Throw 'em back 'til I lose count
I'm gonna swing from the chandelier, from the chandelier
I'm gonna live like tomorrow doesn't exist
Like it doesn't exist
I'm gonna fly like a bird through the night, feel my tears as they dry
I'm gonna swing from the chandelier, from the chandelier
But I'm holding on for dear life, won't look down, won't open my eyes
Keep my glass full until morning light, 'cause I'm just holding on for tonight
Help me, I'm holding on for dear life, won't look down, won't open my eyes
Keep my glass full until morning light, 'cause I'm just holding on for tonight
On for tonight
Sun is up, I'm a mess
Gotta get out now, gotta run from this
Here comes the shame, here comes the shame
For a few years, I was that party girl. When I drank, melancholy was my tone. I was not a fun drunk. But a miserable one. Empty and aimless. I was the pathetic party girl who needed to drink to see. Even though it's ancient history in my life, I can return in an instant. It's good for me to have this empathy. I am not who I once was, but I don't forget.
I hear Chandelier and I "get it."
This song is not about having fun all night long partying. It's not a YOLO anthem.
When I was little, my dad played piano on Friday nights at a bar called Miller's Tavern. His groupies sat at the piano bar each week. They dropped crumpled dollar bill after dollar bill in the tip jar as they requested their favorite songs. I told my dad it looked fun, to be one of those repeat customers (cue: Cheers theme song). He set me straight, letting me know that my assessment was distorted. "Those people are miserable," he said. I see now that they were hiding at the tavern, searching for solace in drink.
I want my kids to know the dangerous lure of alcohol, the lies of the party life. My 13-year-old sings Chandelier all the time. I have talked to her about the lyrics and the artistic interpretations in the video. There is no swinging, no chandelier. The dreary rooms, the stains on the carpet, and the pillowless mattress on the floor are glimpses inside a soul. A sad soul.
My daughter's voice reaches me deep. How can I even be her mother? This child that God gave me and my husband is so unlike us when we were kids. Both my husband and I were shy and insecure (if you know my hubby, you know he's changed. A LOT). I cowered and clung. I let the television raise me – I didn't participate in much until I found my drunk self. My daughter, on the other hand, has complete confidence and little fear. She has so much talent brewing beneath the surface. My mouth drops in awe when she draws, sings, dances, plays violin. She will fly.
After she showed me the Chandelier video, she walked into the other room, picked up her violin, and played the song. Not quite perfectly, but close. Considering it was her first try, by ear, it was phenomenal.
Though I want my children to have pure hearts that love God, I want them to understand sin and the broken world in which we live. This song may bother some people. I suppose I shouldn't let my kids listen to things so lurid and unsavory. To me, it's art.
I see my teen daughter as a work of art. I want to arm her with the emotional capacity to understand and decipher media and entertainment. Right now, as much as a young person can, she feels.
She gets it too.
***