11 Jul

On ice cream and gratitude

After our hurried dinner before rushing out to VBS last evening, I offered a small ice cream sandwich to one of my kids. Another child was upstairs so I yelled, "Do you want some ice cream? You must eat it quickly – we need to leave in five minutes."
The child dashed to the kitchen to retrieve the promised treat. One look at the wrapped sandwich, and said child asked for something else. Something bigger. Granted, what I pulled out of the freezer was a miniature 100-calorie treat – quite small. However, in an hour the dears would be partaking of a snack at Bible School. As the sensible mother, I did not see one reason the unforeseen, free indulgence could not be gratefully accepted with no commentary from the recipient.
This dessert was an unasked for,
My dear angels were innocently going about their business when I impulsively (and quite generously!) suggested something sweet.
Complaining did not sit well with me.
A minute before, no one had dessert. I pointed out to the offending child that all I wanted to hear was a version of: "Thank you, Mommy, for this presentation of creamy ice cream spread smoothly between two chocolate cookies that I would have not received if you were not such a kind parent. Oh, thank you!"
The audacity to complain, unacceptable.
Between growling at my thankless kid
and patting myself on my benevolent back,
I asked myself how many ice cream sandwiches has God given me?
Unearned, unwarranted, unanticipated gifts.
Gulp. I'm drowning here. In goodness. My blessings blind me.
My begging for more has crippled me. I want and then want more.
Comfort, decadence, riches, I want in abundance. I want to hoard them.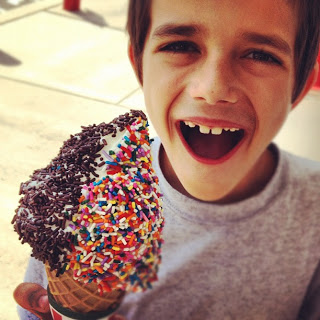 Forgive me for boorish attitude, Lord.
Thank you for the sunshine.
Precious little ones who prize ice cream.
They are no more selfish than their mother.
Have you paused today to take note of your surroundings? Your blessings? What are some that you have been overlooking? When the selfishness of children rears its head, do you see yourself?