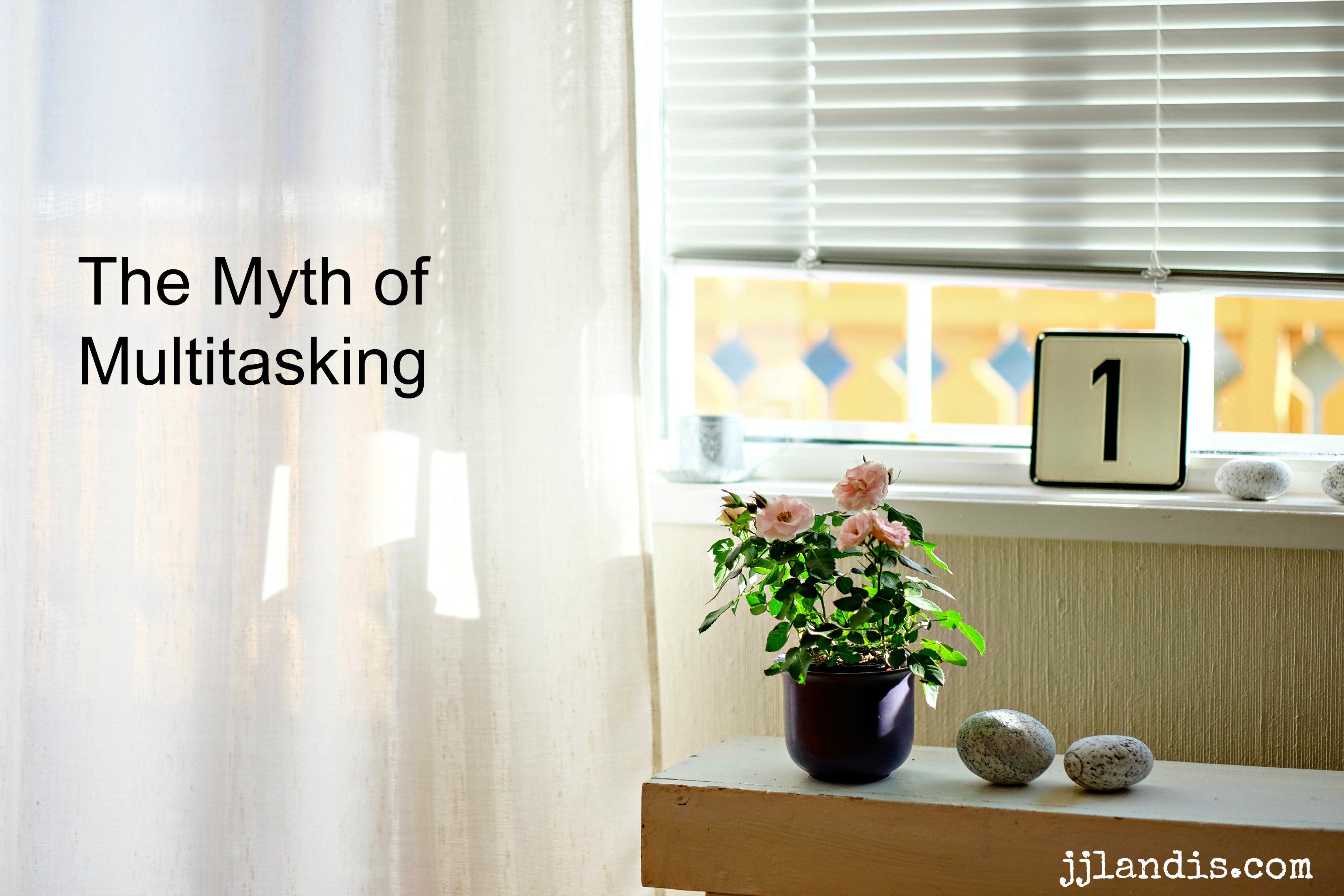 12 Apr

The Myth of Multitasking (and some challenges)

Hello. My name is JJ and I am a skimmer. I read newspaper headlines and captions. I flip through the Bible, rarely stopping to read more than a verse at a time. I read the first few entries of devotional books and then skim the rest. I bookmark professional articles but don't return to them. I repeatedly make lists of who and what to pray for but rarely follow through in prayer.

My kids ask me questions and I don't answer. I ask them questions and don't remember what they say.

Multitasking is impossible for me. This morning, I tried to eat a bowl of cereal while shopping on Amazon while texting a friend about a problem she's having while talking to my daughter about her dance class. I think my husband was in the mix too, probably saying something important to me. Um. Everything failed. (Except I did manage to eat the cereal.)

I want to commune with God, dig deeper, slow down, soak in information, learn more about the world, but I convince myself I don't have enough time. I want to be an involved mom, but I have other things poking me while the kids talk. I want to write masterpieces, but the masterpieces of others beg to be read as well.
Instead of doing any one thing thoroughly, I do a lot of little things inadequately.
My skimming habit is robbing me. When I don't keep a careful check on my spirit, the frantic pace boils until I burn out. There's an undercurrent of defeat knowing I won't accomplish what I think I should, so why bother.
Our society's daily barrage of information, along with all the things we're supposed to do and be are traps. We set high expectations on ourselves and others. No one can be Supermom, SuperChristian, Superwife, super focused, super informed, super healthy, super super super.
Super is a super annoying word!
When I lose focus, I become weak. When I jump haphazardly from one activity to the next, even if well-intentioned in all of them, I end up dodging growth and getting nowhere.
I need to do less with more focus.
Are your thoughts as scattered as mine?
Here are three ways to be deliberate in your focus today:
I challenge you to read something slowly – a chapter of a book, a blog post, a news story, whatever you want. Intentionally read without skimming. Don't click on any links. Focus your mind on the one thing in front of you. Digest it before moving on to the next piece of media or information.
If you are a person of prayer, I challenge you to focus your prayers on only one person or situation. Carry in your heart this prayer and ruminate on God and the goodness, love, answers, and insight He can offer.
If you are a parent with kids in the house, I challenge you to stop what you are doing when your child talks to you. Put your phone down. Look your kid in the eye and listen. Don't shoo him or her away or do sixteen other things during the conversation. (Bonus points if you do this with your spouse too.)
When we stop, breathe, and embrace stillness, our focus becomes keen and priorities sort themselves out.
Freedom and peace is waiting for us!
Are you a Superskimmer like me? What strategies do you have for going deeper?
**
(photo by Steinar Engeland)