17 Dec

My little way of changing the world (and a giveaway!)

My seventh grader has been giving me a

hard

time for about a year about recycling. I recycle most everything I can – boxes, cans, plastic. But I do tend to

neglect

the earth when I am busy. If I'm in a rush, I'll toss a pile of papers in the nearby trash can rather than walk the three extra steps to the green bin in the garage. (How lazy am I?)

So my daughter got it in her head that it is wasteful to use paper napkins. She began suggesting (nagging) that I purchase cloth

napkins

.

 

 

I browsed occasionally at Kohl's and Target but never bought any. Because we have a family of six, we go through quite a few napkins. I wanted to buy enough to have plenty for daily use. It was a matter of getting myself to

hand over

the money.

 

 

In the meantime I have been acquainted with an organization called Imagine Goods, Sustainable Supply Co. They sell fairly made products, handmade in

Cambodia

. Here is a bit more about them (quoted from their "about" page):

"In order to really get to know the people who make our products, we travel to Cambodia together three times a year. While there, we shop in the markets for fabrics (the stall owners know us and love to see us walking up!) and travel to visit the organizations that make our products. These are all workshops run by non-profits that have the express purpose of finding marginalized or vulnerable people—many of whom are survivors of trafficking—training them in a skill, and empowering them with work."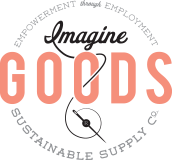 I frequently peruse their website and try to convince myself to buy one of the many products I

drool

over.

Beautiful

dresses, trendy bags, adorable belts, scarves, and more. They also sell items for the home – aprons, tablecloths, table runners, and HELLO napkins.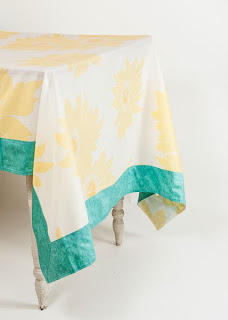 Pretty tablecloth!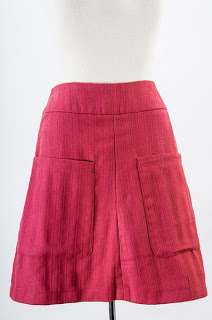 Isn't this cute?
Napkins!


I finally bit the bullet and spent money on five different styles of napkins from

Imagine Goods

earlier this season when they offered a sale. I probably should have bought all the same pattern, but there were so many fabulous fabrics – I wanted a mix. Matching is boring anyway.
I am quite proud of my kid and her dedication to being a good steward of the earth. I'm also glad she hounded me into making the switch away from paper napkins. An added

bonus

came along with my lovely Imagine Goods products: I was able to share with my children the story of how the napkins were

crafted

. Now, each time we gather around our table for a meal, we are reminded of the people in Cambodia who stitched together a new piece of our home.
You may be thinking we are barely making a dent in the environmental problems in the world. That's

correct

. But over the course of time, there are thousands of napkins we would have purchased, used,

thrown away

. And if a 13-year-old ever has the motivation to make a difference for good, however small, I think it's wise to encourage her!
It's also a very meager effortin the war against slavery, against poverty, but it's something (which is better than nothing, right?). Imagine Goods may not be solving every problem in the world, but they are

most certainly improving

the lives of many people in Cambodia.
The kind women at Imagine Goods have agreed to give my readers a 5% discount from now until January 20, 2014, for any purchase from the Carousel line! Simply enter discount code "jjlandis" at checkout.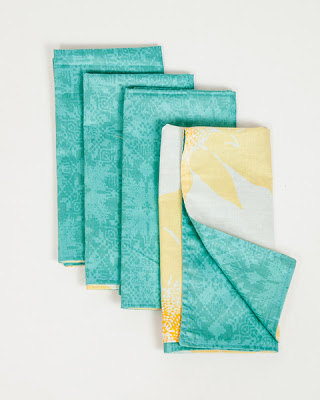 WIN THESE!!


And drum roll please – badadadadada – I am offering this set of napkins (aquamarine pattern on one side and yellow and white floral pattern on the other) for FREE to one of you! There are several ways to enter below. The contest begins today and runs through December 25 at midnight. (Merry Christmas to you if you win!).