24 Oct

My Bro

I'm reposting (with a few edits) something I wrote on this blog in 2007 about my big brother (below). I just spent a fabulous (beyond fabulous) weekend with eight of my best girl friends; now that I'm home, I'm feeling a bit emotionally mushy. Vacation recovery is a hard thing! As I analyze my current friendships, recent growth, and stable mental health of late, I can't help but remember where I've been, which is why I share. Be encouraged you who may be suffering – holding onto a God you can't understand is a hard thing to do. But the freedom and peace that comes from taking that small but mighty step is worth it.

——–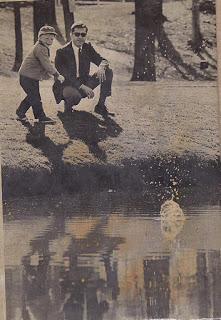 This picture of Jeff and my dad skipping rocks was in the newspaper in 1968 or so.
T
en years ago tomorrow my big brother died of either an accidental overdose or a suicide – not sure. He drank rubbing alcohol and his girlfriend found him dead, sitting on a chair by the refrigerator.
His death did not overly shock me. In a way, I knew for years it would happen. I used to wonder how I would be able to handle losing my only birth sibling. Once, years prior to this death, I had a sense of foreboding that I should call him lest he take his life that night. I am not sure what my call meant to him, but I wish I would have called on October 30, 1997.
Our mom killed herself when Jeff was 19 and I was 12. He followed in her footsteps, leading a destructive life. I followed too for years, but eventually had half a brain to realize I did not want to live a life of depression and misery. I ran to God, throwing off alcohol and drug use along the way, and He gave me a reason to live.
The last time I saw my brother was at my wedding in June, almost five months before his death. He gave me a small sewing kit and cheap drinking glasses for a gift. The glasses have all been broken (I am very clumsy) and the sewing kit of course is long used up.
I miss having my mother and brother. I am not sure Jeff and I were ever close enough in age to share what some siblings share, but it sure is sad to not have him here living life. His kids will be forever scarred by his life and death, just as Jeff and I were scarred by our mother's death.
My big brother was a wonderful person. He was the funniest man I ever met (and that's saying a lot seeing as I'm married to Lee Landis, who is no stranger to humor). He drank milk every morning, stopping on his way to work to buy a quart from the gas station. He took good care of his children. He cooked like no man I've met. He called our unhappy grandma every Sunday just to chat. He took lots of pride in his little house. This is a tribute to him who was very much loved.
My biggest fear in life is that I will follow the family tradition of self-destruction, which is why I lean heavy and hard on Jesus. People say they lean on Jesus, the solid rock. Sometimes it sounds fake, cliché, insincere. But I mean it. You can lean on a sturdy God or you can stumble through life on your own. I've tried both paths and seen results of both.