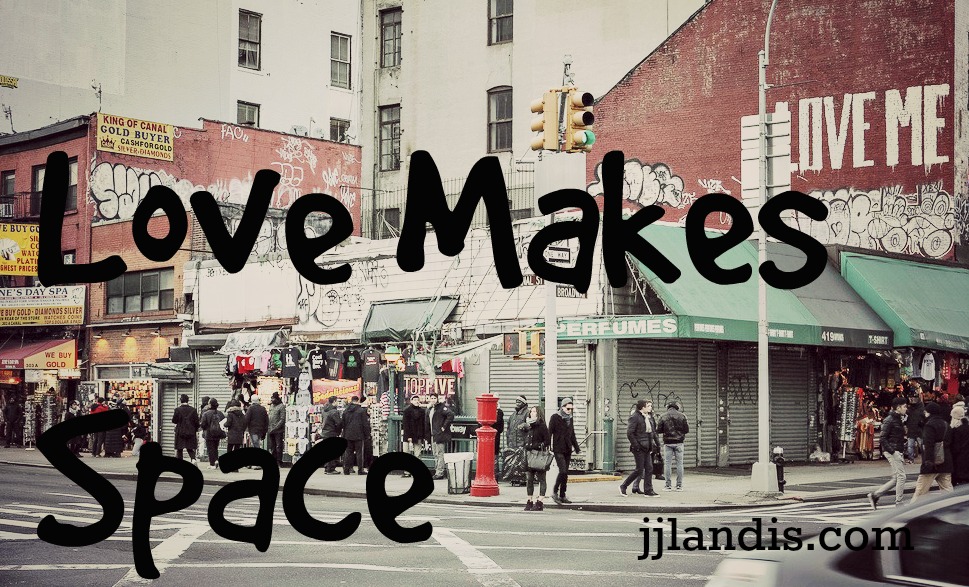 09 Apr

Love makes space

A friend of mine hangs out on a street corner each weekday morning, with her grandsons and other kids waiting for school buses. Some of the children lack decent housing because their home was condemned. Some are refugees from Malaysia. They are open and honest with one another on that corner, and often pray and read the Bible together.

Some days, my friend is loud and crazy with them, when there's a beautiful sunrise for example. I believe this, as she has an exuberant personality and speaks constantly of God's goodness and majesty.

At the corner across the street stand several teens, who are usually silent and sullen. Recently, one of the teenagers lost it, screaming at my friend for staring at him, for getting in his face. He said he hated her, hated old people, hated her God.

At first, she walked across the street and offered him some chocolate. He kept yelling, so she backed off. For the next few days, she was shaken, so she prayed and wondered how to respond.
She said, "At first I felt so self-righteous, every one of my imagined responses a verbal one."
"And then I saw things differently. I want him to see Jesus, yes, but maybe my outgoing ways are annoying or just too much in the morning." And she dreamed of coming up with a way to show respect and give space for God to move.
She decided to simply move. To quietly move her crew to the other corner, away from his direct gaze and space.
She told me, "Love makes space."
She claims my writing has changed her. I didn't want to include that part in this post (because of course, this is not about me) but I did include it for this:
She said, "I can't tell you which writings have changed me, but I have a different kind of courage because of you." She says she now has the courage to change from her preferred platform–speaking and acting to protect herself and her own interests–to a lower place where the grace is very deep.
I love her words there – she moved to a lower place where the grace is very deep. Wow.
Love makes space.
Don't argue. Don't yell. Don't assume the worst. Don't be obnoxious.
There are many ways to share your faith and to show love. One way is to make space.
We're always sharing Jesus, in our actions and our non-actions. They both speak louder than our words.
---