17 Feb

Live for Real

Posted at 14:40h

in

acceptance

,

balanced life

,

contentment

,

depression

,

life is good

,

living for real

,

marriage

,

parenting

,

past

,

perspective

,

thanksgiving

0 Comments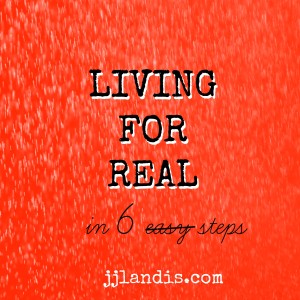 Hi Everyone! This is my first post since the blog got a facelift. What do you think? My new title Living for Real encompasses what I feel led to write about most of the time.
Here is what I think Living for Real means:
1. Be who you are
For example – Decorating is not something I have an eye for. The toil of shopping, painting, choosing colors, and arranging furniture exhausts me. Once a room gets put together, it stays that way for years.
I have a friend though who lives for this stuff! In one of my rare flashes of brilliance, I asked if she'd like to help me freshen up our living room. She accepted the challenge and has been Pinteresting, plotting, and shopping the clearance racks of every store within a 20-mile radius since. She is having a blast choosing and buying and returning and assembling and arranging. I am having a bigger blast NOT doing all those things.
We were created differently for sure. And I am okay with living the life of a person who just can't see the distinction between 600 different shades of beige.
Living for Real means living a life that suits your personality.
2. Let others be who they are
I could write about my friends or kids here, but I'm going to go ahead and skip all that and use my husband as the ultimate example. He has a beard that he is rather proud of at the moment, wears shirts with holes in them, and reveres his mandolin. None of those gets a five star ranking from me – in fact, all of them have the potential to irritate me. But what's it to me if he wants to have holes in his clothes? If he's happy, I'm happy.
Living for Real means being an encourager, a person who sees promise in everyone and attempting to avoid being a nag, a complainer, a critic.
3. Be honest with time
A lot of us can get frazzled when we are not completely honest with what we take on. I happen to know that life frequently overwhelms me. It bothers me, if I'm honest – why I can't handle what others can. Nevertheless, I've learned that to stay sane, I have to say no to a lot of opportunities, such as volunteering at the kids' schools, doing more at church, working more hours, going out with friends. (Gosh, I am a weakling.)
Living for Real means being honest about what you can endure.
4. Be the adult
Don't let your kids push you around. They are kids and it's our job to teach them how to be grownups. I fail at this mostly, but I stand by the theory completely! This topic merits a whole post some other time.
Living for Real means being what you want your kids to be.
5. Be mediocre
It could be pure laziness, but at this point in life, I'm becoming okay with being okay. With my appearance, with my intelligence, with my station in life. I wouldn't say no to God if he offered to turn me into a supermodel or up my IQ a few points, but aspiring to greatness here on earth is futile. At some point, we need to figure out we are enough. (Think: Stuart Smalley.)
This brutal winter has me longing for sunshine and rebirth. In spring I will probably do what I do every year – attempt to have a perfectly manicured yard. My ambition typically fuels me through about a week and then I peter out. Though I want things to look nice, I end up asking myself, "At what cost? Am I willing to give up reading time, writing time, working time, sleeping time? Am I willing to use our limited resources on the yard or would I rather spend money on just about anything else?" And then I settle for mediocrity, and it's awesome.
Living for Real means accepting the body, family, life you have been given and being thankful for it. Store up your treasures in heaven, not on earth.
6. Embrace your past
Since I actually wrote a book about my life, it is safe to say I have embraced my past. Organizing my thoughts into a coherent (I hope) narrative was liberating. I used to see myself as walking wounded, limping through life with a few bloodied, mangled body parts. But somewhere along the path, healing happened and I was freed from the limp and my wounds became mere scar tissue.
It's a balance that's tough to hit – focusing on where you came from so it defines who you are without focusing too much on where you came from so it defines who you are!
The key for me was to mine my experiences for nuggets of gold to share and for adornment.
I can't stand hearing, "Everything happens for a reason." Ugh! Please don't ever say that to someone in pain. It's simply not true. Bad things happen because we live in a fallen world. In time, however, there is value to be gleaned from every situation.
Living for Real means embracing your life, all of it.
So, there you have it. No pretense. Nothing is off limits here (I'm lying already; a few things will always be off limits). Occasionally I blog about downers such as depression and alcohol abuse. Other times I tell stories about my hubby and kids. Sometimes I delve into Christianity and my faith and lack of faith. Always (even while in the great gulf of doubt), I claim God to be first and foremost in my mind and mission. Submitting your life to Jesus is the first step in Living for Real. His grace sets you free.
If you want to be real together, I invite (beg) you to keep reading! You can subscribe to my blog via email, like my Facebook page, and follow me on Twitter.
Thanks for stopping by! JJ