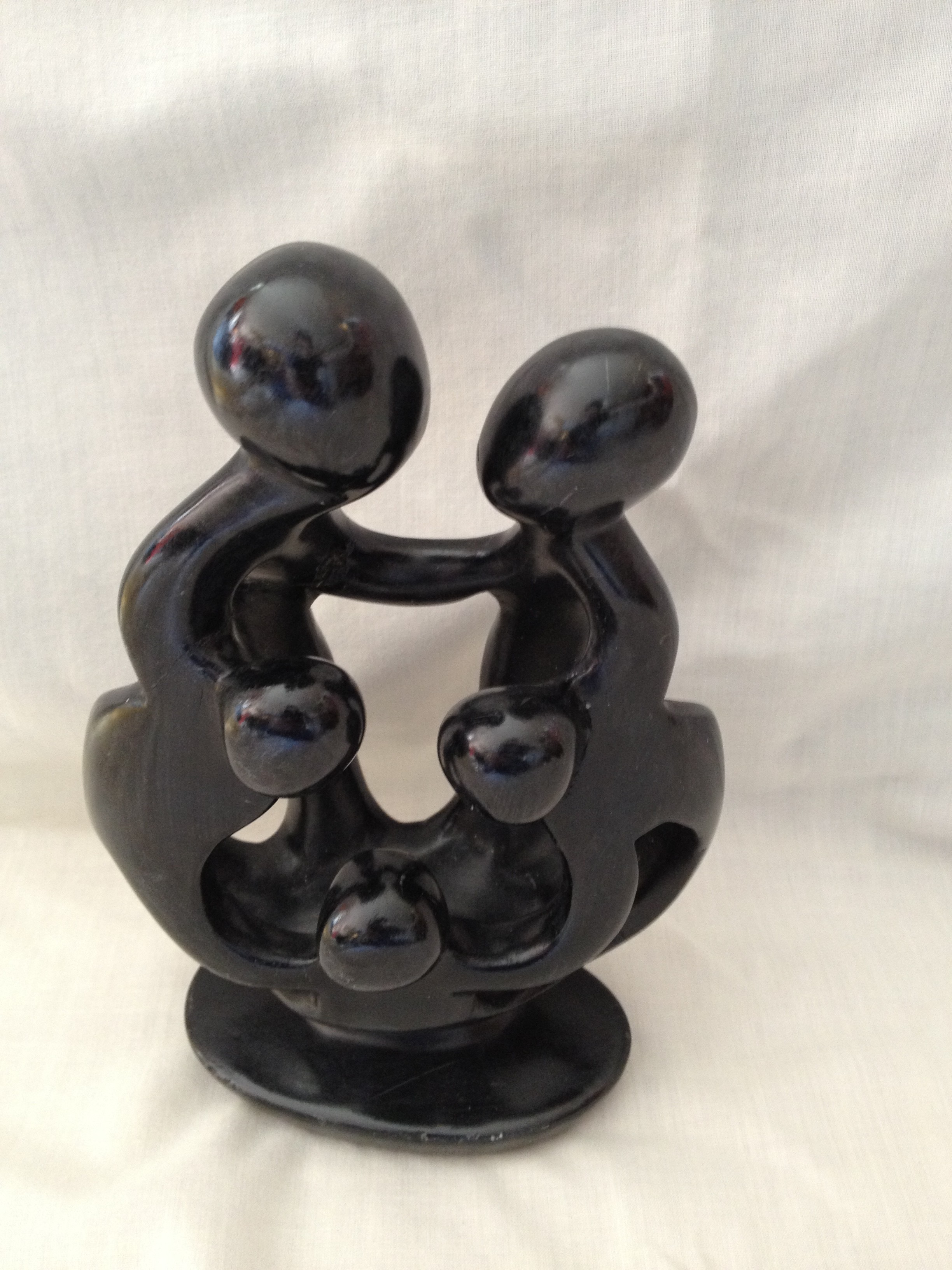 27 Jul

Life is a mess of brokenness and tears

The library had warned me that people don't show up for book signings. The author before me brought in three people.

Being a bit of an eager beaver and blindly optimistic about my newly released memoir, I prepared for a standing room only crowd with paparazzi and reporters trampling one another in hopes of a better shot at me, sure that "best-selling author" was soon to be part of my bio.

Okay, I lie.

I figured one or two or zero people would show up, but I still prepared a speech and brought props just in case…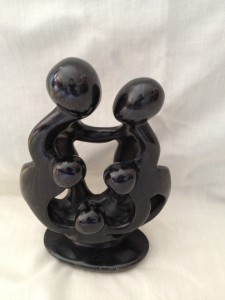 This beloved statue of a family of five accompanied me as an illustration for when I would read this passage near the end of my book:
"I brought you something from South Africa," said my friend, "but I'm afraid it's broken." She had been in her native country for three weeks and returned home bearing gifts. Candy for the kids, exotic European and African. For me a statue of a family of five. Of all the gifts for friends she transported, only mine was cracked. Her husband had expertly pieced it together with glue. The black edges were matched up almost seamlessly. Upon close inspection though, the fracture was visible.
After I thanked her profusely for thinking of me while she visited another hemisphere, I placed the small family in my living room. The family members in the souvenir were melded together in a circle. In no place did the edges start or stop. The parents rose over the children, but all the people were important to the structural integrity of the piece.
The fierce symbolism of the brokenness of that six-inch-tall family became clear to me almost right away. We are all broken people. My family remains intact, though, held together with the glue of God. All of us will run, walk, crawl, or fly each day, moving forward. Reaching the finish line depends not upon the broken pieces but upon the pieces we've given to God to restore and strengthen.
Can we know wholeness if we have not been broken?
Doesn't that sound lovely? To have the fragile, yet strong, family in my hands to bring home the power of the words.
Yes. Lovely!
Tears would be wiped away as the illustration reached people in various ways. Heads would nod. I would make eye contact with a few folks and give them a knowing smile.
But,
in the end, I wasn't able to give my speech to the masses. Two people came to the big event. Both were friends from different corners of my life. Turns out, they attended the same church, so they had all sorts of things to chatter about. Though my prepared talk remained tucked inside my notebook, we did discuss my book.
After some intense conversation about brokenness, I dug my newspaper-wrapped prop out of the shoebox it was hiding in. My friends inspected the crack and the repair job and marveled at the symbolism.
Instead of placing the statue on the nearby table, my friend set it on the plastic chair next to her. The kind of chair with a seat that slants slightly toward the back for optimal butt comfort. The kind of chair that should not be trusted to hold irreplaceable treasures.
A thought crept into my mind: "That's not very sturdy," and then slithered away, ignored.
Cue theatrical music and slow motion:
-Well-meaning friend touches the statue again to make a point.
-Family begins dramatic slide along the smooth plastic seat.
-Family picks up speed as it careens through the open back of the chair.
-Family tumbles and falls Humpty Dumpty style as six eyes look on in horror.
-Family ultimately crashes onto the thinly-carpeted floor and busts into pieces.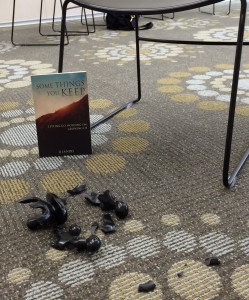 A few obscenities discharged from my friend's lips, and tears gushed out of her eyes. I, having lived a lifetime of processing emotions in abnormal ways, laughed at the absurdity of what had happened.
My symbol of a strong, intact family lay shattered at my feet. Great.
My heart broke for this woman. She didn't know me well, so she was probably fearful of my reaction. She was responsible for breaking something that had meaning to me. I tried to assure her that people are more important than possessions.
I am not necessarily looking for my house to be stripped bare of all my possessions but I really can go on without my trinket. As I wake each day, I do not think of my things; I think first of people.
For sure I was disappointed. I would rather it not have happened, but this was a chance to let go and do some more growing up. My book is called Some Things You Keep. Letting go. Holding on. Growing up. Hmmmm.
I have thought a lot about the shattered family. And I understand better that sometimes things do get broken.
Some fractures in this life will not be fixed. Some parts of our lives will remain in a crumbled heap until heaven.
Life is a mess of brokenness and tears.
And life is a complicated, joy-filled jumble of laughter and progress.
***