18 Sep

Keep moving

I overslept.

Sunday morning, 5:30. Electronic crickets chirped at me from my iPhone. The alarm I had set so I would have time to run before

church

.

This was not an innocent: "Oops. The alarm didn't go off," oversleeping. Rather, it was a: "

No way

am I moving this tired sack of skin off of this mattress," oversleeping. I was one hundred percent aware that I quieted the crickets and enlisted them to chirp again

later

.

By the time I had finally risen from my

decadent

beauty sleep and had consumed a cup of coffee, I was, as usual, kicking myself for not exercising, feeling

slothful

and guilty.

Lately, I am stuck in an "I hate running – it hurts my feet and I'm slow and what's the point since I'm going to die anyway" mood. The result is a constant battle raging inside my beady, little brain. I used to crave time to run in the early morning – so, what's up? Surely, I must continue on with my one-time

passion

to prove nothing is wrong with me and I am not defeated. Right?

Even though it meant

scurrying

around later to get the family ready for church, I obeyed the pull within me to move. I wanted to stir up my

docile

heart and invigorate my soul with fresh air, so I donned my moisture-wicking workout pants and pink Hello Kitty

tank

. I have been around these old bones long enough to know that any short-term pain involved with getting outside is easier to handle than the long-term pain that comes from regret if I don't

go outside

. 

Though I was dressed to sweat, I walked

less than two miles

. Walked. Did not run. Walked.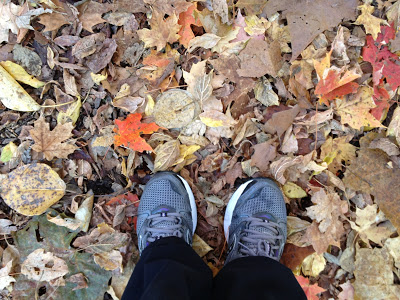 There have been times in the past when not running felt like failure.

 
But the light bulb came on to illuminate my way on my Sunday morning stroll. I realized that though I did not currently have the

drive to quicken my pace

, at least I was moving.
At our youth group lesson Monday night, the youth pastor told the teens that we are always in motion in our spiritual lives. At each moment, we are either going one direction or another. Either toward right or wrong. Toward good or evil. Toward God or away from God.

Never idle.
Sometimes on our life journey, we take great strides and make

amazing progress

. Other times, we shuffle, barely logging any distance.
It's okay, I realized on my walk. Moving is what matters. There are times for leaps and bounds and times for

slow

(perhaps more reflective) growth.
The key is to keep moving.

Move

. Forward.
If you can't run, then walk. Just don't give up. 

 
Thanks for visiting! Let me know how you're moving.