25 Aug

It's not about the music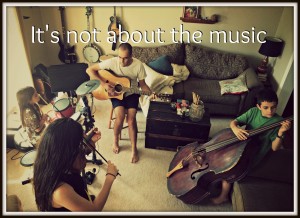 From time to time I post pictures of my husband and kids playing music on Facebook. A few days ago, I received this letter (edited).
"Hey J.J., I have question for you. My dream is to sit around in the living room together as a family, spending time together by playing music and worshipping God. However I have never seen this played out before. When I see all these photos of your husband playing music with your kids, I think: 'That's it. That's what I want!' Is there some advice or idea you can give me? I can't imagine how precious that time must be with your husband and kids, and I want something like that – something we can do as a family that will strengthen that connection."
While this did flatter me, and I'm always happy to pass along "wisdom" to younger moms, I also found myself embarrassed. It was one of those times when I realized social media doesn't give quite the whole story (understatement? Uh, yes.) Someone may see my photos and think we are worshipping the Lord with our angelic voices and amazing natural talent. An 8-yr-old girl on the drums? Wow, what a musical and skillful family! Ha! More times than not, the sounds from the stringed instruments mimic injured cats, and the drums could be mistaken for a herd of elephants rumbling through our neighborhood.
As it is, my eldest is the only one in the family who knows how to read music. She prefers though to listen to pop songs and teach them to herself by ear. That enjoyment keeps her going. If she had to play notes off the page only, she would have hung up her bow a long time ago.
And while there is some worship music reverberating through our home, most of the music is from The Avett Brothers or Imagine Dragons or Katy Perry.
The impression may also be given that the kids are all enjoying the time spent together as a family. You may see the epitome of Americana – complete with the banjo. But usually, there is resistance when Daddy says it's time to play.
So, with the disclaimers out of the way, here is what I came up with to answer the question of how we make this work:
1. Consistency
My husband encourages (makes) the kids practice several times a week, even if just for ten minutes or so. Usually, they aren't in the mood, but too bad.
2. Choice
While the husband is eager to throw his beloved bluegrass in the mix, he does let the kids pick out songs they like. If they are working on a song they enjoy, they are infinitely more cooperative.
3. Encouragement and confidence
He lets the kids feel in control by letting them pluck or tap out the song to figure it out on their own. Their beginning efforts are not critiqued.
4. Tolerance
The hubby tolerates bad music. (I typically hang out in the other room. I am a willing audience only when they've actually learned a song. I may even own noise cancelling headphones. I'm pathetic.) It takes a lot of bad to squeeze out a little good.
What do the children get out of playing music together? Why bother?
1. There is no need to be perfect.
Perfect is boring. Rich and raspy and soulful is more interesting. Music should be experienced, not achieved.
2. It's okay if you can't read music.
When you pick out the melody, you realize you know more than you thought. Bang on the drums for a while till you get it.
3. Be confident.
Don't worry about making a mistake. Keep going. Very few musicians were born singing hits and playing proficiently.
4. Work with others.
There are nightly fights during music time. Either someone has a bad attitude or they fight about who gets what instrument. Like most of life, it takes compromise.
5. Accept the challenge.
Learn new things. Be in front of people. People will look at you and hear you. You won't die. My family has played on the boardwalk in Ocean City, Maryland, along the street in Lancaster City, and in church. It wasn't perfect. Sometimes it wasn't even good. But they did it.
Most importantly, they are learning their daddy likes them and wants to spend time with them.
It's not about the music.