05 Mar

I really need an award for this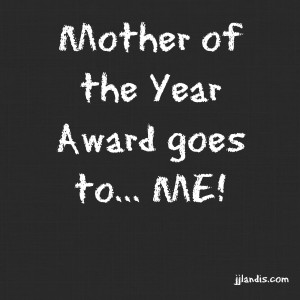 Why I should win the Mother of the Year Award (supposing there were such a thing).
-Not because I've raised my kids to have good manners.
-Not because my children use their iPods only for sending wholesome uplifting messages to friends. No selfies. No emojis. No Flappy Bird.
-Not because they watch only PBS and documentaries on TV.
-Not because the Internet is used for research only. Absolutely no entertainment allowed.
-Not because they are all attending an exclusive NASA summer camp.
-Not because we expect them to attend 35 different music classes each week.
-Not because they go to their rooms at 7 and read and pray for an hour before bedtime.
-Not because they have mastered the art of getting along, ceasing sibling conflict in our home. Only peace and love within these walls.
-Not because they prepare meals for the family using local, organic ingredients.
-Not because they refuse to eat Poptarts, Coke, and Doritos.
-Not because they have earned so much money from doing chores that they have enough to cover their own college education, which they won't need since they'll all have full scholarships.
-Not because they wanted to donate money to charity rather than go on a vacation.
-Not because our home always smells of fresh baked cookies.
-Not because the children rush in the house after school and beg to get their homework done and insist on helping me around the house.
Maybe if just one of those things were true, I could expect some sort of award. As it is, there's pretty much just one thing I have done well. Are you ready for it?
I painted my kitchen table with chalkboard paint!
Brilliant move. Homework, artwork, to-do lists, special holiday decorations, notes to one another, games, endless fun for visiting friends. I am telling you, this is definitely on my "top ten things I've done with my life" list!
Take a look (and thanks for stopping by):