17 Apr

I like giving (and a giveaway)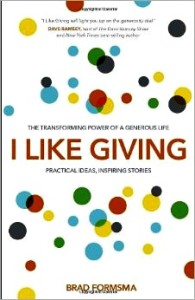 My family was cuddled in the living room watching TV when the doorbell rang. It was after dark, after bedtime really. We don't typically get visitors at night, so the kids, intrigued, threw off their blankets and raced to the door.
It was quiet – no voices. My husband said, "I think it's for you JJ." I reluctantly got up,  leery of the silence.
Hanging on my door was an envelope with my name. When I opened it, I found a note to me from God.
 "Dear JJ, You are loved. You are special. Never doubt that. xoxo God."
Not an occasion. No holiday. No birthday. Regular ole day.
Simple kindness from a friend.
Stories like this fill the book I just read called I Like Giving. It's a happy, encouraging book that is simply written and easy to understand (in fact, even my youngest child understands the concept). Within the chapters about the science of giving, practical information and ideas, the power of a gift, the generous world (and more!), are first person stories of giving.
These stories are not reports about the checks for hundreds of dollars someone wrote to a charity. Not about tax deductible giving. Not about earning a nameplate or plaque. No hospital wing was named after anyone in this book. Rather, each chapter of I Like Giving bursts with creative, individual, practical, and usually small acts of generosity.
A pharmacy customer writes a $200 check to cover a nursing school test for the girl behind the counter.
A passenger holds the hand of a terrified stranger on an airplane.
A police officer gives a trumpet to a child.
A dad gives away the shirt he is wearing.
What I appreciate about the collection of stories in this inspirational book is the relational component. I won't know the hungry homeless person is craving a strawberry milkshake more than anything unless I speak to her. I won't know the veteran in the retirement home needs conversation unless I actually show up and speak to him.
I have been motivated to slow down, look people in the eye, and notice the needs around me. We'll keep sending our checks to Compassion International and continue to donate to the ALS Association. Our church will keep getting our offering. None of that is wrong, of course. But after reading I Like Giving, I'm more apt to be generous to those I encounter daily.
And in keeping with the spirit of giving, the author has donated two copies of I Like Giving to give to YOU! Brad and Laura Formsma, in addition to creating this book, also have a website filled with similar stories by people just like us! Be sure to check it out.
Enter here to win a copy of I Like Giving.