03 Jul

I just might bend but I won't break
What storms do you face?
I saddled up my horses to blaze a trail to Grand Rapids on Wednesday. Walked into the airport,
smug
with my boarding pass in hand, printed at home, only to see the dreaded
C word
on the departures' sign. Cancelled.
The airline so helpfully
rescheduled
me for the same flight 24 hours later. Arriving a
day late
would not do. I was planning to visit my friend and attend a conference Thursday morning.
I weighed my options and "
blinked
." Sometimes a circumstance calls for a blink
(Blink: The Power of Thinking Without Thinking by Malcolm Gladwell)
. My first child got a
good-bye kiss
on the forehead and reluctantly accepted my hug. The next got a bear hug and a few tickles, and the last got picked up and
squeezed
while she cried. My husband 
bawled
his head off (oh wait, no he didn't).
Then I jumped in a rented Jetta for a
cross-country road trip
. Twelve hours enduring construction zones and storms, through (literally) the mountains of Pennsylvania, and across the
flatness
of Ohio up into Michigan.
I was so intent on getting to my friend and to the
Speak Up Conference
 that I pressed on through a situation I would have not thought I could handle.
Call me weak
, but the most I had ever driven
alone
at one time was five or six hours. These days, the
hubby
pilots our van on most journeys. I inhabit the passenger seat and fall asleep whenever there is a
lull in the action
(um, the whole drive to anywhere).
Once I was resigned to my fate of driving, I
psyched
myself up for a good trip. Placing my life once again in God's hands, I
trusted the four-wheeled journey
was my destiny. I purchased my first of
many cups of burnt, bitter coffee
and set out to enjoy the drive.
Well into Ohio on a
necessary pit stop
, I remembered what it was like to live in the Midwest. The
expansive
sky can accommodate many more
aggressive
clouds and storms than in my benign Pennsylvanian sky.
Fear
weaseled itself back inside my frazzled brain at that gas station with the onset of ominous weather. I had no Plan B (technically driving instead of flying was Plan B – I had no Plan C) but to
press on
.
Though the
wind churned and rain fell
, the signal from a Christian radio station stayed with me for two hours. I chuckled in disbelief as song after song was about
withstanding the storms of life.
When I'm feeling all alone
With so far to go
The signs are nowhere on this road
Guiding me home
When the night is closing in
Is falling on my skin
Oh God, will you come close
You light, light, light up the sky
You light up the sky to show me that you are with me
And I, I, I can't deny
No I can't deny that you are right here with me
Life can be heavy, dark, frightening.
Paralyzing
sometimes when we're in the midst of difficulties and don't know if we will make it to the other side to
calm
.
My anxiety wanted me to pull over and wait out the blinding rain, but the construction zone had
encroached
upon the shoulder. Since there was
no safe place
to stop, I had to continue along the highway.
Braking
or hesitating could have caused a
crash
. I had no choice, so I kept moving.
What else can we do but move forward
?
I was sure by now
God You would have reached down
And wiped our tears away
Stepped in and saved the day
But once again, I say "Amen," and it's still raining
 As the thunder rolls
I barely hear your whisper through the rain
"I'm with you"
And as your mercy falls
I raise my hands and praise the God who gives
And takes away
"At least this complicated traveling is keeping me from getting
sleepy
," I told myself searching for
positive
hidden in negative, as I leaned forward like a granny clinching the steering wheel hard enough to snap it in half (good thing it was
German engineered
). Leaning forward put me maybe three inches closer to the windshield,
no doubt
causing a drastic improvement in visibility.
The dangerous sky above me swirled with tie-dyed
shades of black
and white. But up ahead, I saw the
brightness
peeking through. Even though we sometimes experience murky, muddy things, a
placid sky
waits for us.
Driving 55 in a 70 mph zone was
maddening
(Sammy Hagar anyone?), especially because I was on the end of my day-long trek and
just wanted to get to Cindy's house
! Though I wasn't going my preferred speed, the important thing was I kept
moving
.
And I
arrived
. And I was blessed out of my mind by my friends and hosts, John and Cindy. And the conference gave me another year's worth of
confidence
to keep writing.
I'm glad I kept driving and didn't pull over to
cower in the back seat
with my hands over my head, pounding
frantically
on my iPhone screen hoping to reach my husband. (He would have
rescued
me, by the way.)
This hurt is getting heavy
But I'm not about to cave
Everything is about to change
There's gonna be brighter days
I just might bend but won't break
As long as I can see your face
I've said enough about the drive with no
energy
(mine or yours) left to talk about the conference. I will leave you with a
photo journey
. My youngest, Emma, gave me her kitty's kitty to keep with me so I wouldn't miss her too much. (Note:
Kitty's kitty
does not look like a kitty. Pretend along with me.)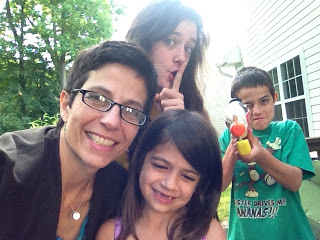 It's all fun and games until the flight gets cancelled.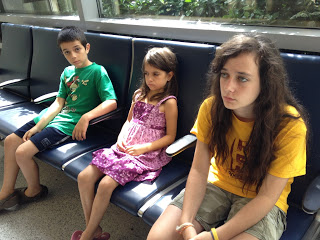 They thoroughly enjoyed waiting at the airport while we figured out what to do next.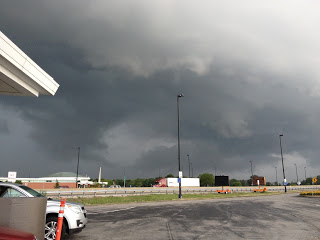 The thunder rolls.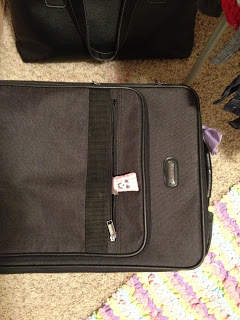 Michigan at last.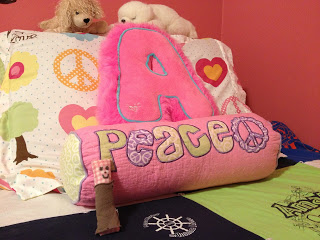 Can't beat these accommodations!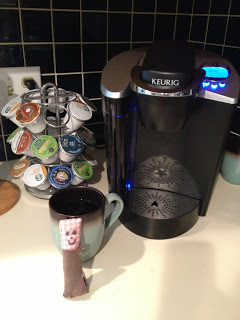 The best part of waking up.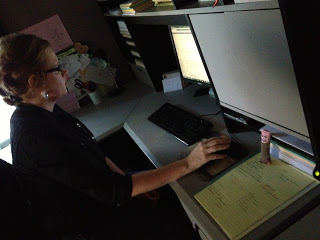 Kitty's kitty is helping Cindy prepare her message.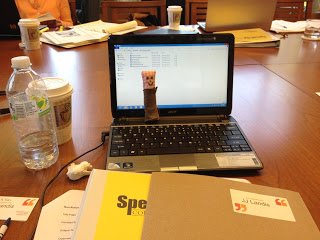 Preparing a book proposal.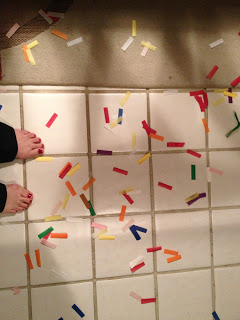 Cindy taught her three guests how to properly use confetti. (Kitty's kitty was in bed and missed this fun.)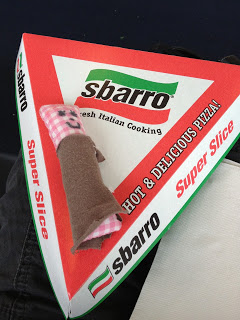 While I appreciated all the healthy food at the conference, I was ready for hot grease and a generous dose of salt by the end.