09 Apr

I hope you had the time of your life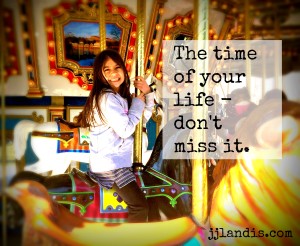 Still coughing and feeling tired after two weeks of having a cold, I got myself to a doctor this morning. When I settled in the waiting room at the Urgent Care clinic, the song playing on the overhead speakers took me by surprise. My eyes welled with tears immediately, before my brain could catch up with my heart. Then I remembered.
Good Riddance (Time of Your Life) by Green Day was popular on the radio in the late 90s but it will always transport me to 2008 when my niece Danni died. Some of the lyrics are:
Another turning point
A fork stuck in the road
Time grabs you by the wrist
Directs you where to go
So make the best of this test
And don't ask why
It's not a question
But a lesson learned in time
So take the photographs
And still frames in your mind
Hang it on a shelf
In good health and good time
It's something unpredictable
But in the end it's right
I hope you had the time of your life
Danni's mom and dad chose this as one of four songs for a memorial slide show that ran on a continuous loop for several hours at Danni's viewing. My husband spent hours poring over pictures to include, from her birth to death. 19 years.
There has never been anyone like Danni. Those who knew her will agree with me. She was a riot. Quick-witted and adorable from the get go. She was the sunshine in a lot of lives.
She was diagnosed with brain cancer (Glioblastoma multiforme stage 4) near Valentine's Day and died on Thanksgiving Day. That's nine months. If I remember correctly, when my family arrived after a 12-hour road trip the next day, we picked at the leftovers of a turkey dinner that my sister still prepared for the holiday.
At some point during my stay, Jessi (Danni's little sis) and I cleaned out the fridge, ridding it of months worth of moldy food that had been delivered to keep the family fed during hospital visits and around the clock nursing care. We had to make way for the funeral food that would start rolling in. Jessi and I had fun laughing at all the interesting finds in the depths of the shelves and enjoyed making the fridge clean and functional again.
———-
Since I've had this cough, my husband has migrated from our bedroom into our daughter's room. He can't sleep while I hack. Emma however can sleep through anything, so she's my bedmate these days.
I woke up this morning and turned (after my morning coughing fit) to see an angel lying next to me. Her face, so pure.
Last night, however, the same angel was so sassy I wanted to toss her against the wall (did I just say that?). She takes on the persona of whatever television character she's obsessed with (right now that's Hannah Montana – I know, I know, don't tell me all the reasons I shouldn't let her watch – I am well aware…). She sort of lives her life like she's in a sitcom. Cracking jokes and waiting for a reaction – at completely inappropriate times. People laugh when Miley/Hannah says things – or Rocky and CeCe, or Teddy and Charlie, or Sam and Carly (just seein' if you know your annoying shows) – so Emma wonders where her laugh track is.
Her dramatics mixed in with her crazy intelligence create at times a rather bratty eight-year-old-going-on-16-year-old. I especially love when she tries to help us parent the other two kids. That usually goes over really well.
Of course, I didn't throw her anywhere or hurt her. She's my baby girl. She's beautiful and I know we'll knock all the sass out of her eventually.
When I looked at her sleeping beside me, I saw her for what she is – a babe. I reached up my hand to cradle her face. I pushed her sweaty, matted hair away from her eyes and inhaled her. I collected Kitty, Elkie, and Monkey from the far corners of the wrinkled sheets and placed them back in her arms.
For that moment, I held on.
The time of my life is in these fleeting precious flashes of wonder.
We can't know what lies ahead. We can't prepare for what's ahead. No one expected Danni would get cancer when she was 19. That's not how it's supposed to happen. I can't grieve the pain in my future whatever it may be. Grieving in advance doesn't hold off the heartache. We can't store up our sadness and ration it out when needed. Unfortunately, the tragedies and disappointments knock us down no matter what we do to try to control them or prepare for them.
We can get through tough times WHEN we face tough times. "Because of the Lord's great love we are not consumed, for his compassions never fail. They are new every morning; great is your faithfulness" (Lamentations 3:22-23).
I can't worry about my children and all the horrors that may come. Doing so will only distract me from having the time of my life now.
I must make a conscious effort while life is happening to notice, watch, listen, love, hug, play, laugh, pay attention.
———-
On a recent visit to Philadelphia, we took a break to rest in a park. When we first saw the park, Emma began asking to ride the carousel next to the standard issue playground equipment. We gave the stock "maybe" and "we'll see" answers to hold her off. But after we had some snacks, Daddy took her bouncing at his side to purchase a ticket. She grabbed the piece of paper from his hand and sprinted to the ride operator. Without looking back, she mounted a shiny horse.
The rest of the group barely noticed her glee. We had trekked through the city for hours and were wiped out. The others are past the age where a carousel holds any magic. I was surprised the thrill remained for Emma at eight; she will soon outgrow this delight.
But for that ride, she had the time of her life.