06 Nov

Home

Though our oldest child is a seventh grade girl, and none of our kids plays sports, we found ourselves Sunday night at a banquet for high school All-Star soccer players. We beamed with pride as one particular senior was called to accept his award, even though we non-soccer people aren't quite sure what it even means to be on the LL District, Division II, Team 2, Senior team (something like that).

I have

mamma bear

feelings for our exchange student who is here for the school year. A fierce desire to protect him simmers inside me. I want him to have the best experience possible while here in our home, our school, our church, our neighborhood, our city, our country.

He's learning the American way of life. We're learning the 17-year-old boy way of life (oh my, who knew?). We are sort of in this together. He is already a beloved member of our family, even though we know so little about him. He's quiet, yet confident and

brave

.

And though he's a foot and a half taller than I am, he's

still a kid

and I want to be a good stand-in mom for him while I have him. I'm already dreading the day when he will get on a plane for home, his real home, an ocean away from us.

A few years ago, our family discovered a nest holding several duck eggs. It was hidden under a bush alongside a pond that was walking distance from our house. The man made body of water was so small we

wondered

why a duck chose to lay eggs there. We dubbed it the "duck pond" and visited many more times, though we never actually saw any ducks.

One afternoon when my son had a friend over to play, my hubby took them on a walk to the duck pond. Though no ducks could be found, there were plenty of fish and frogs to observe.

While the boys kneeled and

reached into the shallow water

, a woman literally ran to them from across the street. Husband Lee says: "She was dressed preppy and had plastic hair and makeup." He knew her approach was not one of welcome.

She told him the pond was for

residents only

, and that rule had to be enforced because of all of the trespassers. Basically her hands were tied, she said. There had been a "residents only" sign but vandals had destroyed it.

Lee admits his wardrobe choice of old jeans with holes in the knees may have helped her discern their non-resident status.

Lee was disturbed. He wondered but didn't say, "

Really?

It is your job to run across the street and tell us this? I'm pretty sure that you just want to kick us out. You are going out of your way to confront us."

Because he didn't want to just slink away with the boys, he asked her to repeat her entire spiel.

Then he said, "Well, you are going to make two little boys very disappointed." He wanted to let her know that her actions were

causing pain

.

Lee says, "While walking away I was mostly just sad for her. The fact that she couldn't see the excitement the two little boys had. Her life must be pretty meaningless if she couldn't appreciate the magic in the boys' eyes."

We haven't been back. As I mentioned, it is nearby. I walk, drive, and run past it frequently.

No one

is ever near the pond. It now is decorated with a sign of exclusivity.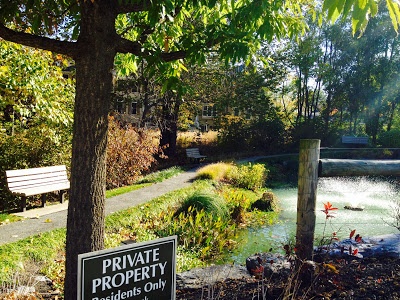 The two playgrounds there are also marked with signs. And the swings and slides are often unoccupied. I guess no one else is allowed in for fear of compromising the unblemished, manicured paradise.
—–
This week, I chatted with a friend about church. She and her husband have unglamorous and low-paying jobs, but they do the work they do to serve others. Their skill set and education would warrant them more prestigious careers, but they are choosing sacrifice in the name of serving others. Repeatedly I have heard them give testimony to how

their faith is lived out

. Yet…

They recently moved and began attending a new church with an established congregation. My friends don't fit the mold and they can feel it. Their family situations and some past decisions are unsavory compared to the (perceived) squeaky clean people who fill the pews. They haven't been treated with blatant unkindness, but yet hospitality, friendship, empathy have not been felt.
Are our churches like the

pretentious

neighborhood my husband was booted from? We only want healthy, clean people to enter the doors? "Sure, you are welcome to visit but don't get too close. Don't need anything. Don't be dirty or have problems. We are comfy and content – don't mess that up for us," our hearts whisper.
I know I could be more hospitable. I could fling wide my front door and welcome the 

masses

into my five-bedroom, North American, first world life. I often want to judge those who push to keep others out. Conceit and superiority irritate me. I tend to root for the underdogs (unless we're talking soccer – then I always will root for Sondre's team!).
But when I judge those I deem snobbish, still I am guilty of judgment, which isn't my place. So, really all I can do here is change myself, open my own life more and more, and treat each person as a child of the one true God, with the

respect

and open arms that each person deserves.
A song on my running playlist gets me emotional when I hear it (and I am a more focused runner when passionate about something). Home by Phillip Phillips has probably been overplayed on the radio by now. But it's just so good.
When I listen, I imagine myself as a misfit child just wanting to feel at home somewhere. I see my own children surrounded by their momma and daddy's lavish love. Surges of grief and affection nearly bust my heart. I reflect on our exchange student. I want him to be

at home

in our home. My desire is for him to feel included, free to move within our family like he would his own.
We are not Norwegian, so we won't ever totally see the world through his eyes. He is not American, so he cannot use that lens to view the world. But we can make a home together,

I believe

.
Because that is love. That is Christ. That is the Church. Adoring others. Including others. Providing safety and security for others. No "residents only" sign should

hang on my heart

.
Home by Phillip Phillips
As we roll down this unfamiliar road
And although this wave is stringing us along
Just know you're not alone
Cause I'm gonna make this place your home
Settle down, it'll all be clear
Don't pay no mind to the demons
The trouble it might drag you down
If you get lost, you can always be found
Just know you're not alone
Cause I'm gonna make this place your home
When those lyrics fill my ears when I'm alone on my runs, especially on days like today when the flaming orange and pink sunrise nearly knocked me over, it's easy to let the

warm fuzzies

flow.
But it's not always easy to live a life of acceptance. People can be so annoying. Some people seem to be here to rub me raw, or to cut me into pieces. Loveable people (like my hunky exchange student) are easy to love, but it's the difficult ones that I need to view through the

eyes of compassion

. To help myself do this, I make an effort to see challenging people as broken and in need of love. (Those of you who know me well know that I struggle with certain personalities and that I often come up short with this compassion of which I speak.)

 
How have you dealt with this? Fought any battles? Claimed any victories?
I think of my many friends with adopted children and my brain can't even fathom their family life. If I had an adopted child, I think I would probably fall down face first on the road and weep with unidentifiable feelings at

the mention of Home

.
Thank you for reading. It means a lot to me!!