23 Apr

Four things I've learned about nagging my kids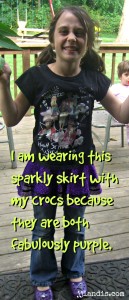 My high school boyfriend got irritated when he saw his tough-guy friend wearing plaid, pastel Bermuda shorts. Why? Because the girlfriend bought the shorts for him. My boyfriend didn't like the idea that a girl could influence a boy so much he would change his style for her.
It was then that I decided I was not going to be the kind of woman who would dress her boyfriend or husband.
Incidentally, that couple went on to get married while my boyfriend ended up hitting me and being a drug dealer. But even still, I stand by my conviction.
I have not been without failure. I have occasionally tampered with my husband's wardrobe, usually to my peril (example here). As someone who wears jeans and hoodies most days, I should keep my fashion advice to myself anyway.
It's not just clothes that I zip my lip about. Facial hair is something about which I remain silent. He can do what he wants with the hair growing out of his body. Sometimes the husband is clean shaven and bald. Sometimes he will go months without a haircut. Right now he's got a several-months long beard (think Duck Dynasty) and baldish head – a trendy, respected friend in her 20s recently called him "the original hipster." (Ugh, his ego!)
This "keeping quiet" is a good tactic in parenting too.
We had friends from Illinois visiting back in the days when we had four kids between us (now there are eight – we haven't seen each other in years, sigh). My four-year-old trotted down the stairs for breakfast wearing clothes that sort of matched in color (sort of) but did not at all go together. The bottoms were suitable for the beach; the top was a heavy sweater for a cold, February night. I didn't know enough to care, but my friend commented more than once how good it was that I let my daughter dress herself.
That encounter has also stayed with me and has become a part of my parenting arsenal.
Do Not Nag. Say it with me – Do Not Nag.
Do Not Micromanage. Again – Do Not Micromanage.
This technique will not work if you want your daughter to be in beauty pageants and wear fake teeth and wigs. Or if you're grooming your children for professional sports or show business. I guess if you care what people think, you will need to nitpick. But for the parents of regular youngins, here are some things I have learned:
1. Clothes. They have their entire adult lives for coordinating, matching attire. Let them be creative in childhood. Let them choose. Let your daughter wear a foofy skirt to the playground. Let her wear a crown to the grocery store. Let your son wear camouflage every day if he wants (hello, that's my kid). When you back off, your child develops autonomy (which comes in quite handy as they grow up).
2. Hair, face, body. Keep your hands off their zits. I thank my daughter for teaching me this. I have begged her to let me go after pimples but she's refused enough that I have stopped. If something on her face isn't bothering her, it should not bother me. Just because when I was her age, I spent six hours each day picking, squeezing, and popping doesn't mean she should do the same! I now have pock marks and scars as payment for my vanity.
They'll care when they care. Until then, don't add more worry to their young lives.
For years, I wanted my daughter to cut her hair. She would go nowhere near a hair salon. I decided to save my fighting energy for more important matters and left her alone with her straggly locks. She's a teenager now and her mop has grown into fabulous thick, long hair that she actually brushes. It's beautiful.
3. Bedroom. This is a hard one because I believe we do need to teach our children to respect their home and to take care of their possessions. Cleaning bedrooms is a regular chore for my kids. However, I have had to learn they will not clean like an adult would clean.
Harassing them for a job that does not meet my standards does no good (trust me, I have learned this). If I scream at them about a giant mess that they were too blind or lazy or stupid to see (of course, I have NEVER done that), they will see an insurmountable mountain of defeat – alongside an angry mom.
I don't know the answer to room cleaning. But I do know that nagging and yelling is not the answer.
4. Relationship issues. Don't point out to a child who is opening up to you about a problem all the ways he or she is in the wrong. Even if he or she is obviously in the wrong! At least do not do this right away. If your child is ranting about a conflict, listen. Just listen. Let your kid know that you understand his or her point of view.
Whenever I'm involved in any sort of drama of my own, I usually just want to know someone sees my side of things. Then I calm down.
As a mom, I want to be that person who will always care enough to try to see something through the eyes of my children (even when they are wrong, I want to understand how they got to that point).
All that said, don't be so chill about their appearance, housework, and relationships that you don't provide boundaries and rules. As parents we are training them to be grownups. If we don't teach them, no one will. But as far as nagging and complaining and micromanaging, they'll get plenty of that from the rest of the world.