30 Apr

Four blessings that come from brokenness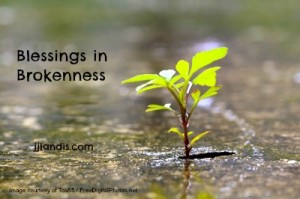 When I said in an email today that my family was blessed with beautiful weather on a recent trip, I took pause. Was I really specifically blessed with that sunshine? What does it mean to be blessed? Is my comfort a blessing from God? Is my pain a blessing?
I listened to a sermon a few weeks ago about the blessing of brokenness.
Of course, my pastor knows way more than I do and conveyed profound depth with his words. I won't try to recreate the sermon here! But I would like to share with you some of the points that I found significant:
1. REALIGNMENT
Brokenness realigns us with who God is and who we are.
As humans we are predisposed for rebellion. We think we know better than God. Romans 12:3 tells us to not think more highly of ourselves that we ought, but we typically do. A lot of people have the idea that we can control God, but in reality we are the ones participating in what He is doing – not the other way around.
In Isaiah 57:15, we read that God says,
"I live in a high and holy place, but also with the one who is contrite and lowly in spirit, to revive the spirit of the lowly and to revive the heart of the contrite."
When we realign ourselves with who God is and we maintain a proper perspective of humility, then we become structurally sound, which provides us with strength.
So by humbling ourselves, we become strong.
2. REVIVAL
Brokenness can revive us.
Being emptied has a purpose.
In II Kings 4:1-7, there's a story of a widow who needed money to keep her family together. When the prophet Elijah asked how he could help, she told him all she had was a small jar of olive oil. Elisha told her to collect empty jars from all her neighbors and then go home and shut the door. He instructed her to pour oil into them all.
She did what he said and she was able to fill all the empty jars. When her sons told her there were no more jars, the oil stopped flowing. She was able to sell the oil to pay her debts and live on what was left.
In this story, the oil miraculously flowed as long as there was emptiness. God works the same way. Pastor John asked the congregation to consider this question:
"Is my life so full that there is no room for God to pour in more of His presence?"
Wow. Ouch.
3. RELEASE
Brokenness releases fragrance and nourishment.
We go through life trying to preserve and hold onto things. We want things to stay the same. But God wants us to be free to release.
When Moses led the Israelites through the dessert (Exodus 16), God gave them food each day as they needed. Each morning, they were to collect bread (manna) for one day. Each day the Lord provided enough. Those that didn't obey and took more were rewarded with maggots in the food they tried to save.
Another story in the Bible about not hoarding what we have is in Matthew 26:6-10:
While Jesus was in Bethany in the home of Simon the Leper, a woman came to him with an alabaster jar of very expensive perfume, which she poured on his head as he was reclining at the table.

When the disciples saw this, they were indignant. "Why this waste?" they asked. "This perfume could have been sold at a high price and the money given to the poor." Aware of this, Jesus said to them, "Why are you bothering this woman? She has done a beautiful thing to me…"
This disciples wanted to preserve the perfume but Jesus praised the woman for pouring it out and releasing the fragrance. When we pour out our riches, fragrance is released and the people around us are affected.
In Matthew 14, a little boy brought five loaves of bread and two fish to Jesus in order to feed more than 5,000 people. Jesus took what was offered and multiplied it. With that, many were fed. The boy did not attempt to preserve what he had, but rather gave it away so it could touch many people.
4. REDEMPTION
Brokenness redeems cracked lives.
Think of a clay pot that has been broken and put back together. Light will shine through the cracks. Like such a container, we were not created to be a decoration, but were created to house a treasure. God's light is able to shine through the cracks in my life – my weaknesses.
We try so hard to cover our weaknesses and pretend we are perfect, and then we wonder why we struggle with gaining victory.
Why do we hide our brokenness when that is the way God's light can shine.
Romans 5:3-5:
"…we know that suffering produces perseverance; perseverance, character; and character, hope. And hope does not put us to shame, because God's love has been poured out into our hearts through the Holy Spirit, who has been given to us."
Allow the brokenness friends. It's okay. With the humility and emptiness comes the riches of God's blessings.
(All good stuff in this post is from John Meck. All the kooky ramblings are from me – what can I say? I'm a broken person.)