05 Jun

Dusty Fairy Tale

Enough clothes and accessories for a four-day weekend fit into my college book bag. I also added several water bottles, one for each day, in case there would none clean enough to drink. Not sure how I thought my boyfriend survived in Mexico. Surely there was clean water somewhere. But even still, I didn't want to be caught unawares, so I took my own hydration. I did not want to risk losing my luggage, so I shoved all I needed into a backpack that I could carry on the plane.


When my flight landed at the Mexico City airport, my only concern was finding Lee. I knew no Spanish and had not traveled in Latin America before. I was nervous Lee would forget me, or oversleep, or get run over a bus on the way to the airport, or be stabbed by marauders and left alongside of the road to die. I would be left all alone to perish in the Mexican heat (after of course surviving for a few days on my water) because I had not paid attention in freshman Spanish.


Against all odds, Lee was waiting for me, with a smile on his face and open arms (no stab wounds or tread marks). Once I knew I was safe with him, I had no other agenda for my trip. I would take his lead, he was the expert. He spoke fluentSpanish and was on his second stint of living in Mexico.


I was there for a long weekend. He was there for four months, leading a team of young adults with the same mission organization where Lee and I met.


On our way out of the airport, we ran to catch a crowded bus. Lee impressed me with his knowledge as he acted as my personal tour guide of the city. Several minutes later, we were able to leave the stifling bus behind to walk the rest of the way to the North American missionaries' house where I would be residing.


An open-air market was along our path. Vegetables and various meats were being hawked. Jewelry glistened on blankets on the dirt. Handicrafts were abundant. Locals shopped there, not tourists. There were some antiques and a few articles of clothing. Lee strolled slowly through the maze of vendors. I obediently followed, deafened by the noise of Spanish swirling everywhere I turned.


The vibrant and luminous day added to my giddiness and relief at actually being in Mexico City with Lee. Our ongoing, long-term relationship was exhausting. We painstakingly kept our love alive by writing letters (real ones on paper!) while we roamed the world. Me: Hong Kong, France, Indiana. Him: Peru, Mexico, Pennsylvania, Kentucky. 


Lee stopped at a stall. On the ground were displayed items you might see in any flea market. Old jars, cloth napkins, trinket boxes, kitchen utensils. In the midst of the junk sat a brown box with the word Mexico on top. When I didn't notice it soon enough, Lee picked it up. He showed the slick brown box to me as he admiredthe handiwork. The word Mexico was inlaid under a layer of lacquer.


Though the detailed craftsmanship made it a handsome item, I nodded haphazardly not giving the object due consideration. Already other goodies vied for my attention in the visually crowded marketplace.


Lee did not give up on that box though. He insisted that I take it in my hands. I didn't give his action much thought. In my defense, I had been on a plane all day and was next to the hunky man I loved. I was in a foreign country where I did not understand the language. I had other things on my mind.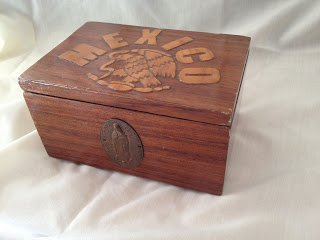 Now holding it, I inspected the container nonchalantly. It's embarrassing how dumb I was. He wanted me to OPEN the hinged lid. Oops. Rather, I leaned over to return it to its place among a hundred other souvenirish/antiqueish trinkets.


Lee finally took control of the situation.
He retrieved the intricately decorated piece and opened it. Then with no warning, he

dropped

to his

knee

. On the dusty road in front of me and the world. The small world in the marketplace, anyway.
Surrounded by the din of the grimy city, my focus shrank. I heard the tink tink tinkling of a music box. I blinked the dust from my eyes.
When my sight refocused, I realized that there before me was Lee Landis. In his

trembling

hand, a ring. His words, simply, "Will you marry me?"
I would like to tell you I acted appropriately. That I clasped my hands over my face in joy. That my giggles intermixed with my joyful sobbing. That I tearfully said, "Yes. Oh yes," as I jumped into his arms. He swung me around with my legs in the air as camera flashes put us in the spotlight of bliss.
My actual response was this (brace yourself for the emotion):
We've been married 16 years this Friday and I still kick myself for that inane response. Who says that? But no matter. He took me off guard. I was one hundred percent surprised. That's all I could get out. "Uh huh."


The back story is he disassembled the only music box he could find in Mexico Cityand placed the musical mechanism within a wooden vessel he built by hand in his third-world bedroom. He carved with a lighter-colored wood the letters of "Mexico" for the lid. Somewhere he found a small, tin Virgin of Guadalupe charm for the front.


Once put together, he shellacked the entire piece of art. An inscription on the bottom has my name and the date. Props to him for making it so authentic it was worthy of being overlooked in the sea of knickknacks on that unnamed Mexican street.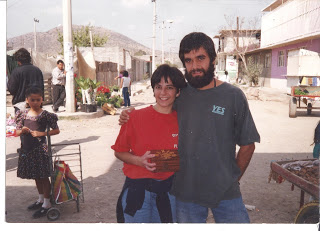 He's even wearing a shirt that says "YES." Don't you love his beard? He didn't shave for four months.

My favorite parts of this fairy tale:

1. I was surprised. Totally.

2. He chose the ring himself (which would eventually lose two sapphires and the diamond and be replaced at year 13 or so with a different model completely, but still…).

3. He loved me enough to use hours of his life putting together a keepsake of our love (Nicholas Sparks be shamed!).

4. He thought through the day and made it perfect and memorable. The vendor was his friend. He set out the music box holding my ring only when he saw us two gringos walking toward him.
5. He wanted me to have a good story to share with all my friends when we would someday talk about our engagements. Yes, he said this to me way back at our start. How was he so wise to know I would indeed be honored to tell this experience over and over again?