25 Feb

Doing drugs is stupid. But we all do stupid things.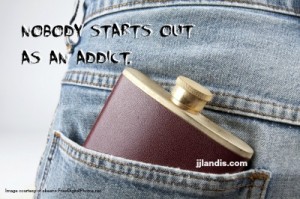 Whenever a famous person dies from a drug overdose and it's all over the news, I take pause and consider what their life must have been like. It's easy to inhabit my comfy life, read a headline, and declare someone an idiot for killing himself with chemicals. Yet, my mom dealt with depression and alcohol which resulted in her suicide; and my brother's destructive lifestyle also ended in death. Therefore I find it hard to gloss over these topics.
Oftentimes when I hear of heroin use or meth addiction, my emotions are all over the place. I am sickened by the wasted lives while conversely overcome with relief and gratitude that I escaped from that life-sucking vortex.
It is difficult for me to judge negatively someone tangled up in addiction. I typically feel compassion above all else. Recently I saw a video that was going around social media of a woman wandering through a grocery store; she was either extremely mentally ill or extremely high. She was talking to herself, exaggerating her movements, twitching and jerking – all signs of meth use.
The person with the camera thought he was so clever by following and secretly videoing her. Even if she was ruining her life by doing drugs, she didn't deserve to have a stranger stalk her with his phone to get fodder for Facebook (errrrr, it makes me so mad!). She was a walking, breathing human being with a soul tortured by chemical interference.
Weeks after seeing that video, she's still on my mind. What brought her to that point? Is she a wife? A mom? Does she sell her body? Is she someone who grew up with substance abuse? Is she a suburbanite who started with prescription pain meds? Has she been in jail? Does she talk to her parents? Does she have siblings? Does she have any money? Was she an abused child? Where does she live? Has she stolen money? When did she have her last hit? Does she realize how she looks? Has anyone ever treated her with kindness? Has she been offered help but rejected it?
I just hate that people laughed at her. Doing drugs is really stupid. But we all do stupid things.
Addicts don't wake up one day and decide their dream in life is to be a user. They don't sit in a second grade classroom and envision a life sleeping on the streets. They don't fill out college applications in hopes they will spend nights throwing up in strange apartments. They don't see themselves at forty shooting needles in their arm.
I was in middle school (same age as my oldest child) when I began using drugs and alcohol. By the time I entered my freshman year of high school, I had a serious problem.
Adults often reminisce about their "glory days" and the fun that was had by drinking and partying. The thing is – many people experiment with alcohol and drugs. And it's not a big deal. But there are those who need only one hit to become so intrigued they will chase the high for years. What can be so innocent for some can be the beginning of the end for others. For me, one night of experimentation turned into a torturous decade. Obviously, every person is a unique case and the landscape today is vastly different, more dangerous, than when I was a kid!
Looking back from this side of things, I tremble at the potential in me for a misused, squandered, empty life. As a mom, I pray that I will offer to my children support in the areas that fueled my own need for the thin life of substance use. As a person, I pray that I will be compassionate and remember that addicts don't want to be addicts.
Thanks for stopping by, JJ