02 Feb

Do more nothing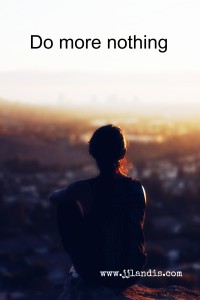 Hello. My name is JJ and I am a skimmer.
I read newspaper headlines and captions. I flip through the Bible, occasionally (rarely) stopping to read more than a verse at a time. I read the first few entries of devotional books and then skim the rest.
I bookmark professional journal articles to read for work but don't return to them. I repeatedly make lists of who and what to pray for but rarely follow through in prayer. I have pages of ideas to write about but infrequently position my butt in front of my computer to actually write.
I want to commune with God, dig deeper, slow down, soak in information, learn more about the world, but I convince myself I don't have enough time. So instead of doing any one thing thoroughly, I do a lot of little things inadequately.
My skimming habit is robbing me. When I don't keep a careful check on my spirit, I find the frantic pace boils inside of me until I burn out before starting anything. There's an undercurrent of defeat knowing I won't accomplish what I think I should, so why bother.
Our society's daily barrage of information, along with all the things we're supposed to do and be (supermom, superlibrarian, superChristian, superservant, superwife, supermodel) are traps. When I lose focus, I become weak.
When I jump haphazardly from one activity to the next, even if well-intentioned in all of them, I end up dodging growth and getting nowhere.
I mentioned a few blog posts ago that I don't make New Year's Resolutions. I don't. But when a conversation (of sorts) was started on the whiteboard in our upstairs hallway – someone, probably my eldest, wrote "Resolutions" – I listed what popped into my head that day: 1. Sleep more. 2. Read more. 3. Walk more. 4. Do more nothing. (Another family member resolved to get a horse and get out of school forever.)
Every day so far of 2015, as I've walked by that whiteboard, I have read my resolutions: sleep more, read more, walk more, do more nothing. I want to add to my list – just breathe.
A phrase I saw on social media a few months ago bounces around in my thoughts too: "Do less with more focus." That is the key.
I am not going to be able to read everything I want to read, so I will deliberately choose a few articles and books and then digest them slowly.
I am not going to be able to absorb every lesson the Bible has for me just because I just bought a new study Bible last week. So instead of flipping randomly, catching nothing, I will choose one passage to study and mediate on.
No way can I be supermom at every turn (I realize you are finding that one oh-so-hard to believe!) or pray for six hours every day. When I stop and breathe and embrace stillness, my focus becomes keen and priorities sort themselves out.
I ask God to show me what to do, show me what to read, direct me toward the best, and I find freedom and peace.