30 Oct

Darkness lurks (but you are strong)

(a story from Some Things You Keep)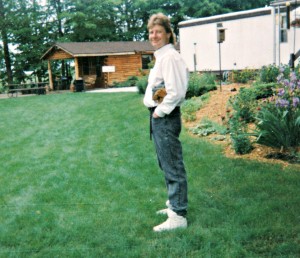 It was a Thursday morning. I went to work for my first day at a temporary job in an extremely unorganized office. File folders littered the floor and were stacked on top of desks and cabinets.
I was stashed in a room with three desks. Two were taken by a man and a woman who had seemingly, judging from all their gossip and inside jokes, worked together for years in that stifling office. They gave me a three-minute tutorial on how to manually enter the information hidden inside the innumerable files into their new computer database. Easy enough. Repetitive and brainless—my kind of job.
On my break I went alone to eat my sack lunch at the local park in my new and temporary home of Paducah, Kentucky. Lee, now my husband of five months, and I spent a lot of Sundays reading the paper on the banks of the park's pond. I chose a bench overlooking the water, devoured my food, and then sat, killing time. I was happy the job would likely last a few weeks so I could develop a bit of a routine. Peace came with predictability.
Later, at home after dinner, Lee called one of his friends and went into the bedroom to chat. I was more than content to hang out on our borrowed, overstuffed couch to view Seinfeld and other sitcoms.
After his hour-long conversation, he had barely hung up the phone when it rang again. Almost as though the caller had been dialing and dialing, just waiting to get through.
Lee answered the cordless phone. I heard him groan and walk out to me. Darn. I was enjoying TV and didn't want to talk.
He said, "I better let you talk to JJ."
Christy, my step-sister, was on the line. She told me that my brother was dead. Maybe from a heart attack. A heart attack? He was thirty-four years old.
Immediately, we prepared for the unthinkable. The TV was switched off. The suitcases were packed. I called and left a message with my new employer. Lee let his boss know he'd be out a few days.
Within an hour we were on the highway driving all night to Indiana to say good-bye a final time.
I had last seen Jeff at my wedding. He had smiled a lot as he celebrated with us at our warm, outdoor reception by a pond. His kids soaked their wedding clothes as they steered the paddle boat through the sprinkling fountain in the pond's center.
He did not in fact have a heart attack. It was eventually confirmed he drank rubbing alcohol. When his girlfriend couldn't reach him at his second shift job, she stopped by his house to make sure all was well. He was there on a chair by the refrigerator. With no more life left in him.
Viewing. Funeral. Saying good-bye. Packing up his life. Watching his kids begin their new reality without their daddy. Realizing I no longer had a big brother. Letting go. Wrestling the demons that told me I too was destined for desolation as they reemerged from the depths where they had been entombed.
________
This was on October 30, 1997. I remember Jeff today, 18 years later. His little girl, who is all grown up now, is visiting our family.
Life is for the living. Do NOT give up! You are strong.
---
(Read more in by book: Some Things You Keep)