03 Jan

Cast but a glance at riches and they are gone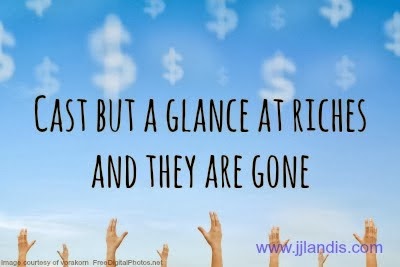 Do not wear yourself out to get rich; do not trust your own cleverness. Cast but a glance at riches, and they are gone, for they will surely sprout wings and fly off to the sky like an eagle. Proverbs 23:4-5



A recent visit to the ER left my husband in a hospital bed for over 24 hours. He felt fine a few hours after his appendectomy so he hopped on his laptop and began working. He can work remotely from almost anywhere, even a hospital room, as long as he can connect to the internet.



About a week later, after several days of this so-called "feeling fine," he began to crash. His body was healing, he was hungover from anesthesia, whatever it was – he was extremely tired. It was then that he had the good sense to stop working and get some sleep!



We are a people who like work. We aim high. We strive to succeed. Often our goal is to become wealthier. We work nonstop in hopes of a better life. "Once this goal is accomplished, I'll enjoy life," we say. But the treadmill keeps moving and we keep chasing that dollar.



In our society, we do need money to survive, so we have to earn it somehow. But WHY do we want more and more? Why is the pursuit of richesa priority?



1. For Security.

Security is a fear-based desire. We tell ourselves if we have enough money, we are safe.



This may be somewhat true, but money gives false security. As scary as it is to grasp, we can't build walls wide enough, tall enough to protect us from everything.



Our physical bodies are the same – no matter what we do to secure health, something is going to kill us.



Adversity is always lurking nearby.



Our ultimate security must rest in God. With him there is no fear.



God is our refuge and strength, an ever-present help in trouble. Therefore we will not fear, though the earth give way and the mountains fall into the heart of the sea Psalm 46:1-2



2. For Prestige.
I love my husband for many reasons. And though he'd like to think the top reasons are his facial hair and mandolin playing, actually I rate his complete contentment with his image as one of his more endearing qualities.
As business owner, he could strive for the illusion of

success

and wealth. He could drive a flashy vehicle that says, "I am a successful man." But instead he motors around from job to job in his trusty minivan with his company logo on the window. He is rather fond of his white van with its heater that never turns off and its manual windows and locks.
Nice stuff, new stuff. They're fine. But not when we desire that stuff to impress others. If we are using our money to buy us acceptance and admiration, we are on the

wrong track

. 
Pride is the root of this mindset.
When pride comes, then comes disgrace, but with humility comes wisdom. Proverbs 11:2
Pride goes before destruction, a haughty spirit before a fall. Proverbs 16:18
3. For Comfort.
This is my baby. Comfort. I struggle. When I aim for riches, my goal is pampering myself (shhh don't tell the hubby). I attempt to streamline activities and organize my time to be as efficient as possible, because in the end I want comfort. Things I desire: vacations with five-star accommodations, cozier couches and chairs in my home, a comfortable bed, plush towels, massages, restaurants, a hot tub (if I ever get one of these, I'll invite you over to increase your comfort level as well).



I am not however called to be pampered. But to accept the comfort God offers me and take it in the abundance by which it comes and shareit with others.



"Praise be to the God and Father of our Lord Jesus Christ, the Father of compassion and the God of all comfort, who comforts us in all our troubles, so that we can comfort those in any trouble with the comfort we ourselves receive from God." 2 Corinthians 1:3-4



What about you? Do you want to be rich? Do you work too much? What are you striving for?