31 Dec

Be your own kind of beautiful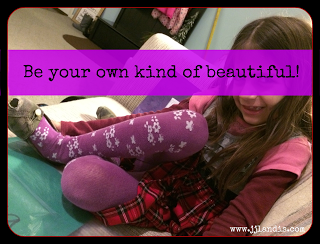 Her pink and maroon long sleeves looked

dreadful

up against the red of her Christmas dress. The purple tights did nothing to bring the look together. What really set her up to be a legitimate fashionista were the shoes – sparkly

camouflage

(with holes in the toes).
I took note of her ensemble before she left for school that morning. She had

dressed up

for her second grade class holiday party. I told her she looked festive and then looked away and let it go. She likes her pink shirt. She adores her Christmas dress. The purple tights are her favorite. When we found her shoes on clearance at Target, she couldn't believe her luck –

sparkles

and camo – all in one shoe!
Later that evening, after we had made numerous stops and had been seen by many people, someone

commented

on her

mismatched

appearance. It was a friendly comment but I honestly hadn't given her outfit much thought after my first initial surprise that morning.
When I see

ragamuffin

kids like mine, I often admire the parents who give them control over their own clothing choice. Perhaps I am kidding my lazyself into thinking this is acceptable – that this red/pink/purple/camo look is acceptable.
In the appearance of my children, I'd rather err on the side of giving them too much autonomy rather than micromanaging too much.


I have three reasons for this:
1. It's the inside that matters.
We all know parents have to choose what

mountains

to die on. I have decided I will fight for matters of the heart, not for wardrobe choices. The outside is just not important to me. My oldest is only 13, so I know I may (will) face bigger challenges than clashing patterns and colors as my kids grow. But until someone threatens to tattoo a unicorn on his or her forehead, I am choosing to let them be.

 
2. I do not have the energy.
Honestly, I can barely get myself dressed each morning. My son wears the

same shirt

every week to church. He does own more than one dress shirt but the green one gets chosen every time (unless I'm feeling particularly manipulative and then I will hide it). My first thought when I see him in green on Sunday morning is to ask him to swap his shirt for another.
But then I think – so what?
He likes the shirt. He's comfortable. I don't really care. I could be worried about what people think when they see him, but that's their issue – if they judge me because he is dressed in green again. Why expend the energy involved by having him change? He'll be annoyed. I'll be annoyed.

Is it worth it?

No.
3. Beauty is in the eye of the beholder.
My daughter thought she looked fabulous in her Christmas party outfit. And who am I to say she didn't? She was

brimming with a child's confidence

that will inevitably be chipped away by circumstances and age.
So many others will be negative toward my children. They do not need to hear mycriticisms and disapproval of their looks.
I bought a sign recently to hang in my daughter's room. "Be your own kind of beautiful," it says. And that is a

battle

I will take on. I will fight for my children to believe in their beauty.
What about you? Do you pick out your children's clothes? Do they choose their own outfits? What are other ways to encourage a child's confidence? I would love to hear your thoughts.
Happy New Year!