14 Aug

Another post about the "s" word with a bit of hope thrown in (with a book review and a giveaway)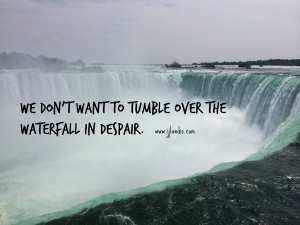 I was in my dim hotel room working on a blog post about hope. My family slept deeply nearby after a long day of extreme touristing, and I sat where I could see Niagara Falls lit with colors of the rainbow. I popped over to CNN for a distraction from my writing that was going nowhere and unfortunately found there the news of Robin Williams' death.
My heart dropped. When I read his death was most likely a suicide, my hope went out that window and evaporated with the mist. Darn it, Robin Williams! Why? Why why why? Where was your hope?
I knew the internet would explode with memorials and movie quotes. I knew suicide would be a hot topic. I knew I should stay away. Yet. I couldn't. I stared. I gawked. I read post after post after post about suicide, mental illness, depression, substance abuse. Being a survivor of suicide (yes, that's a thing. It means you are a surviving family member of a suicide victim), I sickly ingested the opinions, cries of pain, answers (but not really), sermons, beliefs, and stories about this kind of death with torturous fascination.
A few folks in Internetland are being mean (gasp in shock here). Two camps are formed. One says suicide is a choice and can be prevented. The other claims suicide is a result of an illness and is inevitable; though they won't go so far as to say it's inevitable.
Bickering exists between the camps. Surely there can't be truth in both views. Surely, the answer is black or white – no gray area. Surely, it's easy to figure out why someone takes his or her own life. Right? Um, I don't think so.
My post about hope was put on hold. It did not get written until now, several days after that dark night in the hotel. The Niagara River is calm just a few hundred feet before the thunderous 160-foot drop-off. None of us knows what lies ahead. Some of us are floating peacefully. Some are on the edge of the plunge. Some fight. Some go willingly. Some are still falling. Some are at the bottom. Some are past the falls and back to peace. Some see the rainbow made by the mist. Some see the fog. Some live with hope. Some live without.
When I hear of a suicide, I try to imagine what was going on in the mind. What would it be like to be so void of hope that death is the only release? My mom was at that place and made the same choice Robin Williams did. Whether it was the result of mental illness, depression, substance abuse, or a desperate situation is not the issue. The lack of a reason to wake up another day is the issue.
I didn't want to like the book The Hope Quotient. While I do enjoy reflective and instructive nonfiction, I am not a fan of the self-help genre, which I pegged The Hope Quotient to be from the get go. Had this book not been provided by the publisher in exchange for an honest review, I doubt I would have read it.
Ray Johnston is the pastor of a giant church. Honestly, I didn't want to like him either. From the book cover (the likes of which I do make a habit of judging, though I shouldn't) I assumed The Hope Quotient was going to be a slick, glossy take on finding fulfillment in North America.
I was wrong and feel guilty about my first impressions. As it turns out, Ray's attitude and his steadfast adherence to living out the gospel of Jesus are inspiring.
Most of us would probably acknowledge we are pro-hope. No one aspires to hopelessness, do they? We don't want depression. We don't want despair. We don't want to tumble over the waterfall in anguish. But do you and I have hope in our daily lives? Do we see a hopeful future? What exactly is hope anyway and how do we get more of it? Sign me up.
The Hope Quotient is divided into three parts. First, you are prompted to take an online quiz that generates a number that is your HQ (Hope Quotient).
This online component is not necessary. My guess is you know intuitively if you are living a hope-filled life. I didn't even take the quiz until I completed the book.
You then proceed to Ray Johnston's list of seven factors to raise your number: Recharge your batteries, raise your expectations, refocus on the future, play to your strengths, refuse to go it alone, replace burnout with balance, play great defense.
The final section was my favorite. He lays out recommendations for unleashing hope in your marriage, kids, career, church, community, and world!
There are so many scribbles and underlines in the pages of my copy, I am stuck as to what to really say about this book. Every page contains something I want to hold onto. For myself and my children. For my job and my church. For my Christian walk. So much good. So much!
The publisher is offering a free book to one of my blog readers! You are saying, "I WANT TO WIN THAT BOOK!" (Actually, you are screaming.) Here's how:
You will earn three entries for liking my Facebook page, three entries for following me on Twitter, one entry for commenting on this post, and five entries for sharing or retweeting this post.
Thanks everyone for reading. And don't let this be just about a book giveaway. If you are in need of help or a friend to listen, please contact me.
a Rafflecopter giveaway