22 Sep

A little neglect goes a long way

An empty Saturday approached. I had not one obligation to anyone other than myself and my girls. My husband and son would be camping. Our high school exchange student would most likely be hanging out with his friends. Giddy with "girls' day" excitement, I made this list of all the fun activities we were going to do (prepare to be wowed):

1. Visit the Humane League to look at the dogs.

2. Go to Landis Valley Museum.


3. Visit a library.


4. Take a walk on the path in the park near the library.


5. Play mini-golf.


6. Eat fro yo.

Thursday night the hubby and son came home from Cub Scouts and announced their camping expedition was

cancelled

. The menfolk would be staying home after all.

No worries, I thought. Lee will be able to get caught up on work, and Alex can join us. We quickly swapped out "girls' day" for a more

gender neutral

"kids' day."

Honestly, I rarely make plans like I did for this Saturday. I am typically of the "just let kids play" mindset. This is probably because I am lazy, but I like to think I keep things low-key for the good of the children.

For some reason (cough: Facebookcomparisons), I started letting guilt

trickle

in. Started to feel

inadequate

and lesser than. Ashamedly, that is what fueled the frenetic scheduling.

I woke up Saturday morning, still tired, with a lingering headache. After a few

cups of joe

, I retrieved my 12-year-old from a sleepover. Her head cold and slumber party hangover caused extreme

fatigue

and all she wanted to do was sleep.

One kid wanted to crash on the couch. One wanted to play with her

friend

. One complained as usual at any mention of

leaving the house

.

Consequently, all my desire to have my guilt-driven "kids' day" evaporated.

The day ended up being a whole lot of nothing. I completed some paperwork, folded laundry, did yoga, made a shopping list,

took a nap

(that cured the headache!). Not exactly the kid-centric day I had planned.

But here's the thing. Though I let comparison creep in, I came to my senses and realized once again that

a little neglect goes a long way

.

While I putzed around the house, my two healthy kids did their chores and then disappeared.

My seven-year-old and her BFF played in the

backyard

for hours. They did show up for lunch, but I threw some crackers, cheese, and apples at them and they were off again.

The

sick

middle-schooler spent the day sleeping.

The 10-year-old son painstakingly crafted a

necklace

for his little sister out of beads. It broke within minutes, but he refashioned it into a bracelet.

He also made a

clay

pot and clay arrowheads.

Then he took interest in a toy I brought home from work called a Kendama and lost himself for a while in learning how to catch a wooden ball on a stick. It takes keen

concentration

and lots of time, both of which he had since I wasn't coercing him into having fun.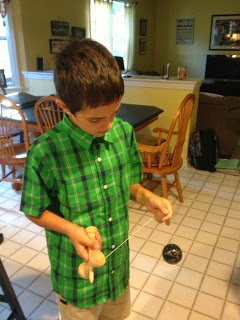 Determination.
Before bed, I did

organize

a game of UNO. Other than that and feeding them (actually, the neighbors fed Emma), I neglected them all day. And it was fine.
Kids thrive when left with their own

imaginations

. With hours of unstructured time, they have time to become bored and use their brains to create ways to become un-bored.
I hesitate in giving the advice: neglect your kids. However, I do think it's good counsel to

leave them alone

sometimes. Let them come up with their own plans. Who needs mini-golf when you have a backyard and a friend, or clay and time on your hands, or unscheduled hours to get needed rest?